A chest of drawers was used to store clothes or household goods. Other pieces that look like chests with many drawers were used to store linens and silver in the dining room. These were called servers. They were made with special features for special storage needs. Small, tall drawers were made to hold wine bottles. A fall-front on a "drawer" could be used as a desk. Servers were made of many types of wood. In America, they often were made of solid mahogany, maple, cherry or other fruitwoods. But some creative cabinetmakers used a variety of woods. Curly maple was a favorite because of its decorative graining. Inlay was also used. One cherry server made in the South, probably Tennessee or Virginia, about 1820 to 1840, has curly maple drawer fronts. It also has wine-storage drawers.
I have a toy car that belonged to my father when he was a child. It was probably manufactured between 1910 and 1920. It is made of lightweight pressed steel that has been painted. It is 17 inches long, 7 inches high and 6 inches wide. There are no marks on it. It has an off-center weight on the back wheels that propels the car when it's pushed. Can you tell me who made it?
Your car is not marked, but your description of the toy leads us to suspect it was made by Kingsbury, a company founded in Keene, N.H., in 1886. Kingsbury made toy cars and trucks until about 1920.
I have treasured an unusual porcelain jar since I moved to my husband's ancestral home in 1930. It is about 5 inches tall and 4 1/2 inches across. The cover lifts off, but there's a small, round hole in the top of the cover. The jar is decorated with hand-painted flowers and gold edging. The mark on the bottom is a green M within a wreath, with the words "Nippon" below and "Hand Painted" above. Can you tell me what the jar was used for?
Your jar is a hair receiver. It might have been part of a larger dresser set. Women used to pull hair from their hairbrushes and combs and store it in a hair receiver. The saved hair could be used as a "rat" for fancy hairdos or woven for hair jewelry. Sometimes women sold their hair to wigmakers. Any porcelain marked "Nippon" was made in Japan between 1891 and 1921. The mark on your piece was used between 1911 and 1921. The M stands for Morimura Bros., a New York City importing firm owned by two Japanese brothers. One of them was among the partners who founded the Noritake Co. in Japan in 1904. Your hair receiver would sell for $100 or more.
We have had an ice-cream scoop in our family for many years. It is 10 3/4 inches long with a wooden handle. On the thumb lever there's a word that appears to be "Gilchris" or "Gilchrist" and the number 31. It still works perfectly. Can you tell us its history and value?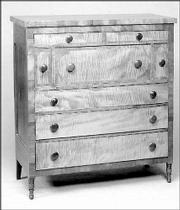 The Gilchrist Co. began in 1902 as a hardware store in Newark, N.J. By the 1910s, the company had moved to a larger building and was producing more ice-cream scoops than any other single manufacturer in the United States. Gilchrist also made cork pullers, ice picks, lemon squeezers and other hardware specialty items. The company's founder, Raymond Gilchrist, was issued a patent for his No. 31 scoop in 1915. This scoop is considered the most common and popular ice-cream scoop ever made. The metal parts are nickel-plated brass. The Gilchrist Co. became a subsidiary of the Scoville Manufacturing Co. of Waterbury, Conn., about 1926. In 1931, the Gilchrist Co. merged with the Hamilton Beach Co. of Racine, Wis. Gilchrist's scoops were then sold under the Hamilton Beach brand name. Your scoop, in excellent and working condition, would sell for $20 to $50.
I have an old can of gun oil with Ted Williams' picture in the top right corner. There is also a Sears label on it. In small letters are the words: "Trademarks -- Ted Williams merchandise sold only by Sears, Roebuck and Co., Made in U.S.A." A copy of Ted's autograph is also on the can. Please tell me if there is a market for this can.
There are clubs and auctions devoted to oil cans. A can's condition, age and graphics are important. Your can dates from the 1960s, so it's not very old. But Ted Williams' picture increases its value, because baseball collectors would be interested in it. Williams signed an endorsement contract with Sears after he retired as a player in 1961. Sears promoted a complete line of sporting goods using his name.
Tip
Old linen or cotton sheets and tablecloths get dry and should be soaked in clear water overnight, rinsed, then soaked again to remove dirt and leftover soap. The soaking process restores some flexibility to the threads.

The Kovels answer as many questions as possible through the column. By sending a letter with a question, you give full permission for its use in the column or any other Kovel forum. Names and addresses will not be published. We cannot guarantee the return of any photograph, but if a stamped envelope is included, we will try. The volume of mail makes personal answers or appraisals impossible. Write to Kovels, (name of your newspaper), King Features Syndicate, 888 Seventh Ave., New York, NY 10019.
Current prices are recorded from antiques shows, flea markets, sales and auctions throughout the United States. Prices vary in different locations because of local economic conditions.¢ Advertising whistle, "Thirsty? Just Whistle," Whistle orange drink, tin, 1930s, $55.¢ Shawnee pottery wall pocket, Scotty dog head, green, burgundy, cobalt, yellow and white, 9 1/2 inches, $95.¢ Blenko glass cactus-shaped vase, ribbed, shaded green, 2 amber arms, inscribed mark, 11 3/4 inches, $120.¢ Painted drum, wooden, reddish brown, red rims, 8-pointed star in red, yellow and black, brass tacks, M.W. Stevens, 1845, 8 1/2 x 11 1/2 inches, $235.¢ Punch & Judy mechanical bank, Shepard Hardware Co., patented July 15, 1884, $495.¢ Fire engine pedal car, pressed steel, red, rear platform, wooden ladders, bell, nickel-plated hubs, Murray, c. 1960, 39 inches, $990.¢ Campaign flag, James G. Blaine, cotton, portrait in center with 38 stars, 1884, 17 x 27 inches, $1,380.¢ Weller Pottery seated-frog garden sprinkler, coppertone, mouth spout and attached metal-head sprinkler, 1930s, 10 inches, $1,880.¢ Deep-sea-diving helmet, copper with brass mounts, glass plate, Yokohama model, 1946, $2,127.¢ Gustav Stickley china closet, oak, gallery top, 2 doors, 8 panes, 3 interior shelves, arched apron, 1912, 64 x 39 x 15 inches, $2,705.
Copyright 2018 The Lawrence Journal-World. All rights reserved. This material may not be published, broadcast, rewritten or redistributed. We strive to uphold our values for every story published.