That 118-pound halibut was something he'll remember forever, but Dan Cary would rather talk about the salmon he caught.
"Salmon fascinate me," said Cary, a financial planner who lives in Lawrence and recently returned from a fishing trip he took to a remote area of Alaska.
Cary, 41, and a couple of friends from Topeka flew to Anchorage, then took a float plane another 250 miles to Nonvainuk Lake where they launched rafts onto the Branch River.
"The Branch has the largest run of red salmon in the world," Cary said. "They say 3.7 million come up the river we were on."
Cary and friends spent five days on the Branch River, catching salmon after salmon after salmon.
"I stopped counting them after awhile," Cary said. "We could keep five each day, but you can't store them in your camp with bears looking all over for fish, so it was mostly catch-and-release. We did keep our five on the last day."
Fortunately for the fishermen, they may have seen more salmon during the day than mosquitos.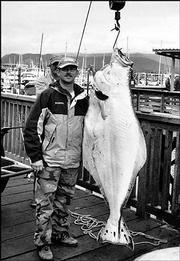 "They weren't bad because we had a breeze," Cary said. "At night, they'd come out in packs, though, so you had to have a net while you slept."
While in the Alaska bush, the Kansas fishermen may have had to take precautions for mosquitos and be concerned about bears, but they sure didn't have any problems with river congestion.
"We saw another raft on our first day out," Cary said. "Then we saw nobody else at all. That was neat."
Once the journey down the Branch River ended, the group was picked up and flown to Seward, where they enjoyed deep-sea fishing. That's where Cary caught the huge halibut, as well as some cod.
Cary was introduced to Alaska while serving as an infantry platoon officer at Anchorage's Fort Richardson during the mid-1980s. He came to Law-rence after left the Army in 1992 to attend graduate school at Kansas University. He has lived her ever since.
"While I was in Alaska I did a couple of float trips and I always wanted to get back," he said. "To me, Alaska is like an old friend."
Three years ago, Cary and his wife returned to Alaska, hitting all the tourist sites and staying in a condo.
"But that just didn't quite do it for me," he said. "I wanted to get back into the bush."
Copyright 2018 The Lawrence Journal-World. All rights reserved. This material may not be published, broadcast, rewritten or redistributed. We strive to uphold our values for every story published.