MONROVIA, Liberia — Clutching her daughter's photograph to her breast, Rebecca throws back her head and wails. Gunmen burst into her home and raped the child on her 10th birthday, leaving her lying in a pool of blood and vomit -- dead.
Every time fighting surges in Liberia, women are raped, aid workers say. But this time, the scale is incalculable. Wild-eyed men are going door to door, ransacking homes, beating and killing people, and raping any women -- or girls -- they find.
Both sides in the battle are implicated -- the fighters of warlord President Charles Taylor, as well as the rebels trying to overthrow him. Women used to be most at risk fleeing through the bush, aid workers say. Now they are not safe in their homes either.
"Those people are not human beings," sobbed Rebecca, now sheltering in a friend's yard. She, like other victims, doesn't want her surname published for fear of reprisals.
July 20 began with Rebecca, 42, waking the sleeping child with a chorus of "Happy Birthday." She gathered her son and a friend's 14-year-old girl with them for Sunday prayers.
Then government fighters pounded at the gate.
A young man smashed Rebecca's head with a hammer and tore off her clothes, while her 10-year-old clung to her, crying "Mommy! Mommy!" When the man realized Rebecca was menstruating, he kicked her.
Another fighter ripped the child from her mother and threw her to the floor.
"When he got through with her, I saw blood, I saw vomit, I saw toilet," Rebecca said, moaning rhythmically. "He raped her to death."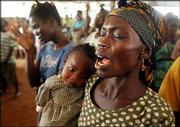 As her daughter lay on the floor, another man grabbed the 14-year-old and raped her, too.
"He was holding me," whispered the child, sitting bolt upright, knees pressed together and hands twisting in her lap. "I was fighting, kicking him."
Rape has always gone hand in hand with war in Liberia, where Taylor's first grab for power in 1989 ushered in nearly 14 years of strife.
"Every time there is an incursion going on, it is the same thing," said Miatta Roberts, a counselor with the Liberian-run Concerned Christian Community. "When there is war going on, no woman is safe."
Figures are impossible to track, because most victims are either cut off by fighting or feel too humiliated to seek help. But the few counselors left after international aid groups pulled out foreign staff said they've never seen so many cases.
"It's more rampant than ever before," said Mariama Brown, the group's founding director.
Some 1,500 women participate in the Christian group's trauma programs at a refugee camp in an athletics stadium. Of these, 626 have been raped.
While fleeing insurgents, Kula's family stumbled into a rebel ambush. Her husband, mother, aunt and brother were killed on the spot.
When she finally reached a refugee camp outside Monrovia, she thought she was safe. But soon the rebels were back, moving from hut to hut in search of women.
"They shared us among themselves," said Kula, who is 47 but looks much older. "Everyone was crying."
Four days later it happened again. Rebels with stockings over their faces burst into the house where she was sheltering and grabbed all the women.
Two fighters raped Kula this time, one so young he could barely hold up his machine gun -- no older than 10, she guesses.
"I think the women who can say they haven't been raped are very few," she said sorrowfully. "It pains my heart."
Copyright 2017 The Associated Press. All rights reserved. This material may not be published, broadcast, rewritten or redistributed. We strive to uphold our values for every story published.