New York — Gil Meche has spent much of his promising young career just trying to get healthy. He seems to have mastered the art of pitching at Yankee Stadium quite quickly, however.
Meche pitched two-hit ball for a career-high eight innings, and the Seattle Mariners snapped Andy Pettitte's eight-game winning streak with a 2-1 victory over the New York Yankees Saturday.
It was Meche's second big performance in the Bronx this year -- he threw 7 2/3 innings in a 6-0 win against Roger Clemens April 29.
"It's a good feeling to come in here and do the same thing I did against Clemens," Meche said. "For me, that was the biggest game I've ever pitched.
"It's a big-time place to play. As far as emotionally, you better be ready, otherwise the fans are probably going to get to you. I just love big games."
Seattle scratched out runs on Mike Cameron's RBI groundout and Bret Boone's sacrifice fly to end a three-game skid. The top two teams in the American League have split the first two games of a three-game set -- Clemens faces Jamie Moyer today in a matchup of aces in their 40s.
Nick Johnson homered in the fourth inning for the Yankees, who entered the day with a four-game lead over Boston in the AL East. Hideki Matsui's fifth-inning single was the only other hit off Meche, who faced just one more than the minimum and retired his final 10 batters.
"Adrenaline also helps. This place is a legendary place for me to come and pitch," Meche said.
Shigetoshi Hasegawa worked a one-hit ninth for his ninth save in nine chances. He has not allowed a run in his last 24 innings, dating to June 1.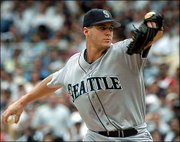 Meche (13-7) has won three consecutive starts following a four-game losing streak. The 24-year-old right-hander spent last season at Double-A San Antonio after missing 2001 while recovering from shoulder surgery.
"You talk about big games, every game is a big game for Gil after the surgery," Mariners manager Bob Melvin said.
Meche walked just one and used a surprisingly crisp fastball to strike out seven.
"Did you see the fastball -- 97, 98 (mph)? Maybe he should be the closer," Hasegawa said.
Athletics 7, White Sox 2
Chicago -- Ramon Hernandez homered twice and drove in a career-high five runs as Oakland defeated Chicago. With the Kansas City Royals' 6-2 win over Tampa Bay, Chicago fell out of the top spot of the AL Central, which they held for a day. The White Sox are a half-game behind the Royals.
The A's have won 13 of their last 19 games. The second-place A's remained two games behind the AL West-leading Seattle Mariners, who defeated the Yankees, 2-1, Saturday.
Chad Bradford (6-3), who spent part of three seasons with the White Sox before being traded for Miguel Olivo in December of 2000, pitched 2 1/3 scoreless innings of relief for the win. Oakland scored three runs in the first inning off White Sox starter Jon Garland.
Twins 8, Tigers 4 (10)
Detroit -- Jacque Jones hit a two-run, go-ahead double, and Torii Hunter had a two-run homer in Minnesota's four-run 10th inning as the Twins beat Detroit. Hunter had four RBIs, while Jones had three for the Twins, who rallied from a 4-0 deficit. Bobby Higginson hit his ninth homer and drove in three runs for Detroit. With the game tied at 4, Chris Mears retired the first batter in the 10th, then walked Doug Mientkiewicz and Corey Koskie. Rookie Shane Loux entered, and Jones greeted him with a liner to the right-center field scoreboard to drive in two runs.
Red Sox 6, Orioles 4
Boston -- Kevin Millar hit the 10,000th homer at Fenway Park, a two-run shot in the eighth inning, and Boston rebounded from a doubleheader sweep by rallying to beat Baltimore. Fenway Park, which opened in 1912, joined Wrigley Field, Yankee Stadium and the since-demolished Tiger Stadium as the ballparks to have had at least 10,000 homers hit there.
Indians 3-3, Angels 2-2
Cleveland -- Rookie Angel Santos homered, and Cleveland's Jason Boyd became the first pitcher to record an unassisted double play in 13 years, leading the Indians to a 3-2 win and a sweep of Anaheim in a day-night doubleheader. The Indians won the opener by an identical score on rookie Ryan Ludwick's RBI single in the 13th inning. Santos connected for his second homer with two outs in the seventh off Scot Shields (2-3) as the Indians completed the sweep.
Blue Jays 5, Rangers 3
Toronto -- Kelvim Escobar pitched eight sharp innings, and Reed Johnson hit a go-ahead single in the bottom of the eighth as Toronto beat Texas. Eric Hinske doubled off Aaron Fultz (1-3) in the eighth before Fultz intentionally walked Bobby Kielty. Rosman Garcia struck out pinch-hitter Dave Berg before Johnson hit his two-out single to right. Mike Bordick followed with an RBI single, giving Toronto a 4-2 lead.
Copyright 2018 The Associated Press. All rights reserved. This material may not be published, broadcast, rewritten or redistributed. We strive to uphold our values for every story published.