Elkin, N.C. — Darrell Poindexter was carrying an armful of plumbing supplies and shopping for more in a new Lowe's store in his rural hometown.
The selection wasn't huge in this store, a scaled-down version of Lowe's big box outlets. Still, he found what he wanted for his project.
"For a small town like this, it's just the right size," Poindexter said as his buddy Kelly Richardson nodded affirmatively. "It's easy to find what you need."
While it's not immediately obvious, this Lowe's store represents a departure from the "bigger is always better" mantra that company executives have been chanting for years as the Wilkesboro, N.C.-based home improvement chain has chiseled away at leader Home Depot's market share.
Most Lowe's stores built during the past several years are 116,000 square feet or larger. The Elkin, N.C., prototype store that opened in March is a more modest 94,000 square feet, or roughly 20 percent smaller.
"We're looking at markets of less than 30,000 households," said Larry Stone, senior executive vice president of operations, as he visited the Elkin store recently.
"The inventory is not as wide and deep in some lines, but it has the same look and feel of our larger stores," he said. "And 95 percent of the customers find something they can use."
For example, the larger stores might carry one more gas grill, usually in the upper price range, Stone said. The higher-end model can be ordered and delivered to the smaller store in a matter of days, he said.
Bob Tillman, chairman and chief executive of Lowe's, told a recent investor conference that the term "size" must be taken in context. "I would point out that our smaller store is the size of the basic Home Depot," he said.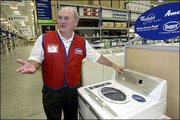 Tillman also contends the new stores can be as profitable as the larger ones. The 94,000-square-foot prototype can be built and operated at a lower cost while offering more flexibility in smaller, single-store markets, he said.
Lowe's standard 116,000 square-foot stores cost $17 million to build and $5 million to stock. The company says each averages about $33 million per year in sales.
By contrast, the smaller stores cost about $12 million to build and hold about $3.5 million in inventory. Sales are projected at $20 million to $25 million, using about 25 percent fewer employees.
Stone said the company plans to open about 25 of the 94,000-square-foot stores in 2003. Another prototype store opened recently in suburban Nashville, Tenn., and more are to open soon in Hutchinson, Kan.; Kinston, N.C.; and other locations.
In all, Lowe's plans to open about 130 new stores in 2003 and another 140 in 2004. About half of the new stores slotted for 2003 will be in rural markets.
In May, Lowe's said its first-quarter earnings rose by nearly 22 percent. Sales were $7.2 billion, an increase of 11 percent. But sales at stores that have been open for at least a year rose only slightly.
Lowe's currently operates 875 stores compared with 1,568 stores operated by Home Depot.
Industry analyst David Campbell of Davenport & Co. in Richmond, Va., supports the marketing strategy behind the smaller stores.
"Some smaller markets can't support a larger store," he said. "And this really is not a significant change. They are only modestly smaller than the big stores."
What he likes about the format is that it will allow Lowe's to penetrate smaller U.S. markets like Elkin, which has about 25,000 households.
"This opens up another 150 to 300 new markets for them," Campbell said.
While Lowe's is looking at rural markets for its smaller-store program, Home Depot is looking to build smaller stores in urban centers, where there are fewer sites and those that exist are smaller and more expensive. The Atlanta-based chain recently opened an 80,000-square-foot store in Lincoln Park in Chicago.
The manager of the Elkin store, Jill Reinhardt, said the toughest part of her job was trying to set up the aisles so that customers used to the larger stores could find the products they needed.
"This store is so important to the company," she said. "If it works as planned, it offers a lot of opportunities in a lot of markets."
While he would not disclose any figures, Stone said the Elkin store has outpaced his expectations.
"It turned a profit in April," he said. "It's not as big as some of the stores I visit every day, but it is making money."
On this particular day, it was impossible to find any unsatisfied customers.
"It seems like there's more room in this store," said Gordon Hodges, who held a package of furnace filters and was looking at some cabinets for his workshop. "It's not as cluttered as the one down in Statesville."
Copyright 2018 The Associated Press. All rights reserved. This material may not be published, broadcast, rewritten or redistributed. We strive to uphold our values for every story published.