Washington — The New York Liberty finished off the Washington Mystics once again.
Crystal Robinson's 18 points led New York past Washington, 65-56, Saturday, snapping the Liberty's nine-game road losing skid and eliminating the Mystics from playoff contention.
New York ended Washington's 2002 season in the Eastern Conference finals.
The Liberty opened a 10-point lead before going just 1-for-10 from the field during the last 7 1/2 minutes of the first half, allowing the Mystics to take a 33-31 lead at the break.
"We were executing beautifully to start the game, and then we turned the ball over 10 times," New York coach Richie Adubato said.
Chamique Holdsclaw, who led Washington (7-21) with 13 points, helped the Mystics build a six-point lead while New York missed its first five shots of the second half.
Sting 69, Sun 68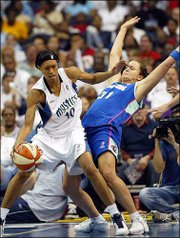 Charlotte, N.C. -- Dawn Staley's bank shot at the buzzer gave Charlotte a comeback victory. Andrea Stinson led the Sting with 19 points. Nykesha Sales tied a career-high with 29 points for the Sun.
Rockers 66, Fever 62
Indianapolis -- Chastity Melvin scored 19 points, and Cleveland withstood a flurry of Indiana three-pointers. Tamika Catchings led the Fever with 21.
Silver Stars 69, Sparks 52
San Antonio -- Adrienne Goodson had 15 points as San Antonio snapped a three-game losing streak. Kansas University product Tamecka Dixon led the Sparks with 15 points.
Lynx 77, Monarchs 73
Sacramento, Calif. -- Katie Smith scored 27 points, and Sheri Sam had 20 to rally the Lynx, who moved into fourth place in the Western Conference standings.
Copyright 2018 The Associated Press. All rights reserved. This material may not be published, broadcast, rewritten or redistributed. We strive to uphold our values for every story published.