Williamston, N.C. — For six years, John Gurkin did little besides take care of his ailing wife and maintain the eight-acre garden they built together.
When Ann "Red" Gurkin became too weak to walk, her husband carried her in his arms through the garden, with its two wooden foot bridges, statues and a pond. When the eastern North Carolina summers became too muggy, he put her in their Lincoln Town Car and drove her through the grass.
Red was 66 when she died May 4, 1996, of emphysema and heart problems that kept her on oxygen for the last two years of her life. She almost took John with her to the grave.
"I was suicidal," John Gurkin recalled, wiping tears from his eyes as he stood in their garden. "I didn't even want to live. I still have a hard time."
He comforted himself by tending to the garden, adding signs throughout expressing his love. A marble sign beneath her photograph at the entrance to the garden reads: "This garden is dedicated in loving memory to Ann 'Red' Gurkin. The beauty she created here will live on for all who pass by."
The garden, not advertised and on private property, attracts travelers who take Big Mill Road as a short cut to the Outer Banks that bypasses the stop-and-go traffic of Williamston proper. Gurkin welcomes visitors, though he has banned weddings and other events because the insurance he must maintain for such celebrations is too expensive.
Adoration for wife
At its peak, the garden was a tribute to a great love, much like the Taj Mahal, said Gurkin's sister, Chloe Tuttle, who has turned the family homeplace across the street into the Big Mill Bed and Breakfast.
"After 40 years, he couldn't stand to be out of her sight," she said. "He was just adoring of her."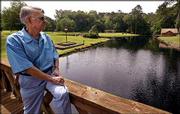 River birches thrived with nandina, cedars, dogwoods and the 75 to 100 rose bushes that were Red's favorites. John and his sons mulched and mowed, fertilized and sprayed as John ignored Red's deathbed advice: Don't let the garden get too big, you won't be able to handle it.
More importantly, she said, don't pine for me. Live your life.
He ignored both admonitions, tending the garden and missing Red. He added the photograph and the marble sign. Other signs posted throughout the garden: "Today, Tomorrow and Forever. John Loves 'Red"' and "Welcome to Red's Garden."
They met in April 1951, when he had an appendectomy at Brown Community Hospital in Williamston the day before he was supposed to ship out to Korea. "When I went under, she was the last thing I saw," he said. "When I woke up, she was the first thing I saw."
It took maybe a week for him to fall head over heels in love, and the two were married in August 1951. John was taken aback that a woman like Red would fall for him. She was a popular girl who had been engaged a time or two, but never married. John was a self-described country bumpkin lacking in social graces.
Red "could have been at ease in the White House as well as a country hoe-down -- it didn't make any difference," he said.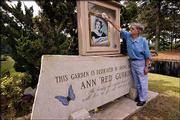 One perfect person
There's one perfect person for everyone in a lifetime, and the few lucky ones find each other. "There's no one else even comes close to her," he said.
Her finest quality was her unselfishness, he said. "Even when she was real bad off, she never worried about herself. She worried about me."
Red died a few months shy of their 45th wedding anniversary.
In the seven years since, John has regained his balance, replacing his love of gardening with his love of dancing, a pastime that he and Red enjoyed. The shag, fox-trot, two-step and cha-cha take him to dances across eastern North Carolina as a member of a singles club.
Moving on
His "main girlfriend" is 46 years old, and he speaks of visiting other "friends" in Lagrange and Goldsboro and other small towns.
"One of my hobbies now is dancing, and I don't have time (for the garden)," said Gurkin, a 73-year-old retired farmer who owns 500 acres of land along Big Mill Road. "We used to have flowers by the hundreds. But I quit messing with them because it got to be such a job."
Visitors still will find the remnants of a tribute to love. Four life-sized Greek-style marble statues grace an arbor. Another statue of a woman stands alone, near statues of a buck and doe. Ivy has overtaken wooden benches that once provided a place to sit and wonder at the beauty. The wooden signs are cracking, nails falling out, and Red's photograph has faded -- John talks now about removing it altogether.
Just one of Red's beloved rose bushes remains.
None of this means John's love for Red has lessened, merely that he is following her advice at last and moving on. "You never forget, but you learn to accept it," he said.
His home beside the garden provides further evidence of his loyalty to Red's memory. It includes 335 blown-up snapshots of Red with signs over them that read, "There are angels. John married one" and "My Last Breath Will Be I Luv Red."
"A friend told me this wasn't normal," John said, waving his arm at the photos. "But I never have been normal."
So even though he dances now instead of gardening and has more than one girlfriend, Red still rules his heart: "Most of what I ended up being came from her."
Copyright 2018 The Associated Press. All rights reserved. This material may not be published, broadcast, rewritten or redistributed. We strive to uphold our values for every story published.