Garden City — When Paul and Linda O'Hara's grandchildren come to visit, they play on the wood floor where people once danced the fox trot and the Charleston.
The O'Hara's home, built in 1909 by Edward G. Finnup, was a center for social and political activities in Garden City.
The top floor was a ballroom the Finnups used to entertain friends and guests.
The home, at 501 N. Ninth St., is listed on the National Register of Historic Places. It was added to the register in May 1997, about three years after the O'Haras bought the house. Called Cedar Cliff, it stayed in the Finnup family until the death of Edward's son, Alonzo, in 1963.
The O'Haras moved to Garden City from Hugoton because of Paul's work. He owned a pharmacy in Hugoton and wanted to get away from the demands of ownership. He has been working as a relief pharmacist, filling in for pharmacists who are sick or on vacation.
Linda teaches math and science at Holcomb High School. She said they wanted an older home that would give them projects to work on and would allow them to display their collection of antiques.
She said the old house, in the Dutch Colonial Revival style, is the perfect avenue to showcase their collection, which includes an old standup transoceanic radio and a square butcher block in the kitchen.
Paul said the couple has been acquiring antiques for years, and they now have about 30 pieces of furniture. Paul also collects old clocks, radios, razors and any kind of opener, whether for letters, bottles or anything else. He said he has enjoyed exploring all the nooks and crannies of the old home.
An older home requires more maintenance, Linda said, but she doesn't mind small imperfections. The home still has its original stained-glass windows and window frames.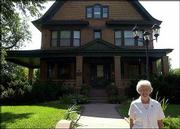 "You think you've caulked around the windows, but the dirt still comes in," she said. "It's just part of the personality of the house."
Linda said she didn't mind having a hitching post in the yard rather than a garage or carport. In the place of crisp newness, she gets features that make the house unique, such as a built-in china cabinet in the dining room and a quirky main floor bathroom about 3 feet by 4 feet, which was probably once a closet.
One of Paul's projects contributes to both restoring and modernizing the house somewhat. He had the old locks in the doors repaired, and then he hunted down skeleton keys that would open each lock. Now, the doors to every bedroom and bathroom can be locked using a skeleton key.
"I wanted it to be upscale enough to compare to modern bathrooms," he said. "We have a skeleton key hanging on the inside of every bathroom, so if we have guests that want privacy, they can lock the door."
As much as Linda and her husband love the house, they are planning to move sometime in the next year because of Paul's work, she said.
"I don't really like to talk about it because it makes me sad," she said. "I don't know if anybody could love this house as much as I do."
She said there was no way to tell how many hours they had put into the house because she and her husband are always doing something to upkeep or improve it.
They opened up a basement bedroom and bathroom that had been closed off by the previous owners and paid for bigger jobs, such as installing a sprinkler system and custom kitchen cabinets.
The O'Haras don't receive money from the state to maintain the house. They have the option to fill out a grant requesting money if they want to make a major change to help restore the house, but it can only be applied for once. She said they had not applied for the grant.
The couple has never lived in a new home, and they said they appreciate the history behind their house and the care that has been put into it. Linda said she couldn't imagine moving into a new home, with what she described as a sterile environment.
"If you've ever been in a church before, it just feels like a church. When we walked into this house, it really felt like home," she said. "It has a nice, warm atmosphere."
Copyright 2018 The Associated Press. All rights reserved. This material may not be published, broadcast, rewritten or redistributed. We strive to uphold our values for every story published.