Soon-to-be NBA superstar LeBron James isn't the only high school athlete that has a sports agent.
High school athletes in Lawrence and even in small towns like Baldwin and Tonganoxie soon may have one too, thanks to a new Lawrence-based business.
Lawrence residents Franco Martinez and Elizabeth Burgess earlier this year founded Athletic Promotion Inc., a business that will serve as an agent for high school athletes. The difference between their service and the agent used by James, a standout Ohio high school basketball player, is that Athletic Promotion doesn't market the athlete to professional teams. Its target is college coaches.
"We're not necessarily going to be based around the superstar high school athlete," Martinez, a former Kansas University baseball player, said. "It will be for those kids that are getting maybe one or two recruiting letters, or maybe none at all, but feel like they have the talent to play at the college level.
"A lot of kids don't get the chance to play college ball because they weren't seen by the right person on the right day. What we're here to do is make that connection happen."
Marketing students
The idea behind the business is simple. It works much like a marketing company would promote a new gadget.
For a $400 fee, the couple, which operates the business out of their Lawrence home, will conduct an assessment of the athlete and then put together a complete marketing package that is sent to college coaches.
Martinez, who serves as president of the company, said he expects most of the company's business to come from athletes interested in football, basketball and baseball, but said the company would create a package for students in any major sport.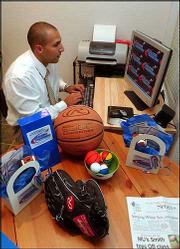 The package includes a video highlight tape, a sheet of statistics and an individualized cover letter that is sent out to as many as 10 different athletic programs, usually a mixture of schools that the student is interested in and ones that Martinez believes may have an interest in the student.
The program also includes an analysis of the high school courses the student is taking to help insure the athlete will qualify academically, an assessment of the player's strengths and weaknesses, and an individualized workout program designed by a former strength coach at Oklahoma State University.
But mainly, the business is based around the concept of having someone with connections working on behalf of the student. Martinez is familiar with the recruiting process after being wooed by NCAA Division I schools in both basketball and baseball in the mid-1990s when he was a high school athlete in the Denver area.
And he said his playing career, which included two years on KU's baseball team and two years at Fort Hays State University, had left him with a long list of contacts in the college sports world.
Martinez said he saw firsthand how not knowing someone with connections can make a difference when it comes to landing a scholarship offer.
"I played for a coach who knew every scout known to man it seemed like," Martinez said. "Then I went to another high school who had a coach who didn't have the same connections, and I saw a lot of players fall through the cracks."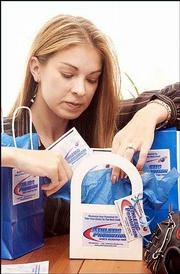 Legal and growing
But isn't "agent" a dirty word in college athletics? College athletes who sign with a sports agent generally lose all their eligibility. College programs that are found to have dealings with a professional sports agent generally face stiff penalties or probation.
Burgess, who is a former director of a Kansas City agency that helped students break into the modeling industry, said one of the company's first steps was to check with the NCAA.
"They said as long as we're not getting any type of money or compensation from the coaches, that it's legal," Burgess said.
NCAA officials did not return phone calls for this story. But Mark Chiarucci, director of corporate sponsorships with the National Association of Intercollegiate Athletics, said such businesses didn't violate NAIA rules. He also said they were not as uncommon as people would think.
"There must be a need for them because they're popping up all over the place," Chiarucci said
About every three to four months, Chiarucci said, he hears from a new company like Athletic Promotion. Martinez said he was aware of several companies based on the East and West coasts but said the businesses are just now reaching the Midwest.
College coaches have been aware of the companies for a while, Kilmeny Waterman, KU women's tennis head coach, said. She said opinions were mixed on how helpful the businesses are.
Waterman said her staff used a couple of the recruiting businesses that specialized solely in evaluating tennis players. She said the companies that worked with several different sports often didn't provide as useful information.
She also said coaches had to take the information the companies provided with a grain of salt.
"They're being paid by the kids or the parents, so there is a bit of bias there," Waterman said. "But you never know. You have to look at everything because it might help you find a diamond in the rough."
High school coaches also have mixed views on the businesses. Bob Lisher, head football coach at Free State High School, said he encounters several of the companies. He said most high school coaches already do many of the same things, such as sending out stat sheets and videotapes.
"The only difference is my service is free," Lisher said. "Sometimes, though, it works out well for a kid, but other times they throw $400 out there and nothing happens."
The company doesn't guarantee that it will land a scholarship for its clients; only that it will increase their exposure to college coaches.
Chiarucci said amateur sports organizations like the NAIA and the NCAA probably would spend more time in the future looking at the businesses. He said there could be concerns if the businesses start charging higher and higher rates to help the athletes.
"You would hate to see it take that road," Chiarucci said. "You don't want people exploiting the student athletes, and you don't want the companies making big dollars off the student athletes.
"If it becomes more of a true sports-agent type of arrangement, then you can bet we'll be keeping a close eye on it."
Seeking Lawrence stars
Martinez said the company thus far only has a handful of paying customers. Patrick Castillo, a senior-to-be in the Denver area, is one of them.
Castillo said he turned to the company because he thought he was good enough to play college basketball but wasn't receiving recruiting letters.
"Growing up I never thought it would be that hard to get recruited, but it seems like the coaches have a few players that they're looking at and if you're not on their list it is hard to get them to look at you," Castillo said. "It's tough if you don't have someone with connections working with you."
Castillo said Martinez was marketing him to Kansas State University and several Kansas junior colleges.
Martinez said the company was looking forward to its first full high school sports season in the Lawrence area. He said the company would promote itself at area high school games. The company also is donating some services to students who are part of the Boys & Girls Club of Lawrence.
Burgess said she expected many of the athletes at smaller area schools to be good customers for the business.
"If they're playing at a smaller school like Tonganoxie, there probably aren't that many recruiters who go out there to watch a game," Burgess said. "We really think we can help those athletes."
The pair said they thought they'd have success selling the idea to parents, too. Burgess said she thought parents would understand that the company ultimately could help reduce the student's college education costs.
"When you see a student who has the talent to play at the college level but doesn't get the chance, it is sad because a lot of times you're talking about a $20,000 college scholarship or more," Burgess said.
Copyright 2017 The Lawrence Journal-World. All rights reserved. This material may not be published, broadcast, rewritten or redistributed. We strive to uphold our values for every story published.