DETROIT — Steve Mariucci is off to a winning start in Detroit.
Joey Harrington threw a touchdown pass to Scotty Anderson in the final seconds of the first half to give Detroit the lead, and the Lions beat Pittsburgh 26-13 Saturday to give Mariucci a victory in his debut with the team.
Mariucci, let go from San Francisco after going 60-43 in six seasons, returned to his home state in February to replace Marty Mornhinweg, who was fired by the Lions after going 5-27 in two seasons. Mariucci drew a loud cheer when he was introduced.
"That was an experience for me," Mariucci said. "It was fun being in Ford Field. It was fun being on the sideline with this bunch, and in the locker room. It was fun having my family down for the first game and to come out with a win."
Many dismiss exhibition games as meaningless, but the Lions have a different view after two poor seasons.
"I've been telling guys that it is important for us to win these preseason games," running back James Stewart said. "The way things have gone the last couple seasons, we need to show that we can win games -- even now."
While Detroit doubled Pittsburgh's score, the Lions weren't impressive against the Steelers' first-string units.
Detroit's offense produced its first points against reserves, and the Lions' defense was fortunate Tommy Maddox underthrew Plaxico Burress twice on potential touchdowns.
Maddox was 5-of-10 for 54 yards, with three passes for 45 yards to Burress.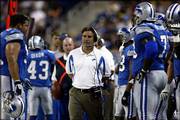 Jerome Bettis gained 19 yards on eight carries.
Jaguars 16, Vikings 14
Minneapolis -- Ike Charlton returned a fumble 97 yards for a touchdown to lead the Jaguars to victory in coach Jack Del Rio's first preseason game. The Vikings fumbled four times -- losing two of them that led to 10 Jaguars points.
Seth Marler kicked two field goals, and Mark Brunell looked sharp in extended time. He went 10-for-13 for 110 yards and no interceptions. Jimmy Smith caught five balls for 70 yards.
Panthers 20, Redskins 0
Charlotte, N.C. -- Stephen Davis, released last winter after seven seasons in Washington, rushed for 74 yards on seven carries for Carolina, which beat Washington for the first time. The Panthers are 0-6 in regular season games against the Redskins, and had been 0-1 in preseason matchups.
Titans 10, Browns 6
Nashville, Tenn. -- Eddie George ran for a touchdown and Joe Nedney kicked a 22-yard field goal as the Titans held off the Browns.
The Browns nearly rallied to win behind Josh Booty, who found Marc Soumah in the end zone in the final minute. But officials ruled the pass incomplete even though a replay showed Soumah may have gotten his hands under the ball.
Both Steve McNair and George left after two series with McNair 7-of-10 for 61 yards and George rushing seven times for 24 yards.
Justin Hartwig made his debut at center for the Titans with veteran Tom Ackerman out after surgery on his right knee. The former Kansas University lineman was late on one snap, but none went awry.
Broncos 20, Texans 12
Houston -- Jake Plummer, who landed in Denver after six seasons with Arizona, threw a 12-yard TD pass to Chris Cole.
Houston's David Carr, the No. 1 overall pick in the 2002 draft, finished 4-for-7 for 29 yards.
Jason Elam hit a 47-yard field goal in the second quarter and a 50-yarder in the third.
Bears 20, Colts 18
Champaign, Ill. -- Rex Grossman drove Chicago 50 yards in the final 2:39 and Paul Edinger kicked a 38-yard field goal as time expired. Grossman, the Bears' first-round draft pick, was 9-for-21. The Bears got the ball back at the 34-yard line when Jerry Schumacher recovered Ricky Williams' fumble.
It was the Bears debut of quarterback Kordell Stewart, who signed with Chicago after losing his job in Pittsburgh. He was 7-of-8 for 29 yards.
Colts quarterback Jim Kubiak was 12-for-20 for 121 yards. Indianapolis missed three field goals, two by Mike Vanderjagt.
Packers 27, Falcons 21
Atlanta -- Michael Vick was 6-for-7 for 110 yards, including a 43-yard touchdown pass to Brian Finneran, before Atlanta squandered a big lead.
Green Bay rallied once the starters were done for the night. Najeh Davenport scored on a 3-yard run late in the first half, then sparked a 17-point third quarter with a 4-yard TD.
Ryan Longwell kicked a 40-yard field goal and Bobby Jackson put the Packers ahead for the first time, scooping up a fumble by Doug Johnson at the Falcons 2 and returning it for a touchdown with 2:49 left in the third quarter.
Bills 20, Ravens 19
Baltimore -- Rookie Antonio Brown returned a punt 87 yards for the decisive touchdown with 3:19 left, and Nate Clements intercepted Chris Redman's pass to set up a score.
Ravens first-round pick Kyle Boller threw a 26-yard touchdown pass to Randy Hymes with 23 seconds left, but the two-point conversion pass failed.
Baltimore tight end Trent Smith broke his leg after being tackled on a 39-yard reception.
Cardinals 13, Cowboys 0
Tempe, Ariz. -- Emmitt Smith made a cameo appearance against his old team and Dallas was shut out in Bill Parcells' debut as coach. Bill Gramatica kicked field goals from 40 and 27 yards, and Kevin Kasper scored on a 35-yard reverse to give Arizona the victory.
Neither Chad Hutchinson nor Quincy Carter stood out in the battle for Dallas quarterback. Hutchinson completing 5-of-10 passes for 43 yards. Carter was 8-for-13 for 81 yards.
Seahawks 20, Chargers 7
Seattle -- Matt Hasselbeck completed six of his first seven passes and finished 8-of-11 for 75 yards as Seattle beat San Diego. Shaun Alexander and Maurice Morris each scored on a 1-yard touchdown run as the Seahawks built a 14-0 halftime lead.
The Chargers from the 3-yard line late in the third quarter when Terreal Bierria intercepted a pass in the end zone.
San Diego quarterback Seth Burford broke up the shutout with a 13-yard TD pass to Grant Mattos with 1:55 left. That score was set up when Seattle's Jerheme Urban fumbled a punt.
Copyright 2018 The Associated Press. All rights reserved. This material may not be published, broadcast, rewritten or redistributed. We strive to uphold our values for every story published.