In a quiet area of abandoned warehouses and small businesses sits a fenced parking lot partially obscured from view by overgrown trees and weeds.
Behind the chain-link fence is an inventory of vehicles that would make any car dealer proud.
There are minivans, pickups, station wagons, sedans -- 130 vehicles in all, 2002 and 2003 models that have not been used and together are worth more than $2 million.
All are state-owned vehicles. And they're just sitting there.
At some point, they will replace other vehicles being rotated out of the state fleet because of high mileage that are sold as surplus.
But amid tough budget times, state officials say the vehicles present both a real and symbolic problem.
"In the future as we move forward, the way we purchase vehicles is going to be dramatically different so that we aren't going to have a parking lot full of unused vehicles," said Caleb Asher, a spokesman for the Kansas Department of Administration.
Numbers add up
Asked how many vehicles the state owned, Asher first said he didn't know. But then he did some research. The final figure was 8,661. That means there is a state vehicle for every five state employees.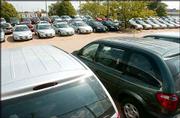 "Just the sheer number of vehicles," Asher said, "it's kind of embarrassing."
State Sen. Paul Feleciano of Wichita, the ranking Democrat on the Senate budget-writing committee, said neither he -- nor, he suspects, any of his legislative colleagues -- realized the state owned so many vehicles.
"That surprises me," Feleciano said. "I know we want to stimulate the economy, but not by purchasing cars for the state."
He said agencies never talked about car purchases when they talked to legislators about their budget requests.
Asher said one of the budget review teams appointed by Gov. Kathleen Sebelius has been studying the vehicle situation. It is considering everything from how many cars the state buys to who is allowed to have a car and the operation of the state motor pool, where state employees check out cars for daily travel or out-of-town trips.
Spending under review
The study is part of a top-to-bottom review of spending at the Department of Administration. Administration Secretary Howard Fricke, appointed by Sebelius in December, has told lawmakers his crew is questioning much of the department's spending, down to why the state has 17 contracts for pest control for state buildings.
As far as state vehicles go, Fricke already has extended the standard mileage from 90,000 miles to 95,000 miles before the vehicles are sold from the state fleet as surplus, Asher said.
The department has cut its travel completely, while other agencies have made cuts in both travel and use of motor pool vehicles, according to Asher.
Those factors probably have led to the new vehicles sitting idle in the parking lot. Of the 130 cars in that lonely lot, Asher said about 110 were purchased last year, and 20 in January.
He said the state received bids on cars and purchased them from the low bidder. The largest percentage of cars in the lot are Chevrolet Cavaliers purchased from Ed Bozarth in Topeka. Most of the vans and Dodge Stratus sedans were purchased from Zeller Motor Co. in Arkansas City. The pickups were purchased from several dealers in Johnson County.
In addition, a review of the department's 1,500-vehicle motor pool found that 500 vehicles were rarely used, Asher said. "If 500 of our vehicles are under-utilized, then why do we need those vehicles?" he said.
In the Governor's Office, four Kansas Highway Patrol cars are assigned as part of Sebelius' security detail. That is the same number that was assigned to Sebelius' predecessor, Bill Graves, according to Sebelius' office.
Cars vs. schools
An anonymous caller brought the parking lot full of new vehicles to the attention of the Journal-World, questioning why the state would have bought so many cars now sitting idle at a time the state is in a financial crunch.
Budget woes have kept state education spending at the same level that schools received when students started the 2001-2002 school year. Meanwhile, during the just-completed fiscal year, the state spent $21 million for new vehicles.
That amount of money could have increased state aid to schools by $36 per student, the Kansas Department of Education said.
Asher said the question of why the state had so many new vehicles was a legitimate one and that the administration, in office since January, was trying to get a handle on it.
Copyright 2018 The Lawrence Journal-World. All rights reserved. This material may not be published, broadcast, rewritten or redistributed. We strive to uphold our values for every story published.