Kansas City, Mo. — Dennis Erickson's re-entry into the NFL was a winning one.
Ken Dorsey threw two touchdown passes, and Tim Rattay threw one as the San Francisco 49ers overcame five fumbles and beat Kansas City, 24-6, Saturday at Arrowhead Stadium in their first exhibition game under their new head coach.
"It won't really feel like my first game back till we play Chicago (in the regular-season opener) because it's still the preseason," Erickson said.
Rattay, who started at quarterback while Jeff Garcia rested his ailing back, was 8-for-9 for 90 yards, including a 39-yard scoring strike to Brandon Lloyd in the second quarter.
Dorsey, battling Brandon Doman for the third-string quarterback job, connected with Arnaz Battle on a 15-yard scoring pass that made it 14-6 in the third.
Following a fumble by Chiefs rookie running back Larry Johnson on the 29, Dorsey hit a wide-open Jason Isem on a two-yard TD pass with 7:46 left in the game. Dorsey was 4-of-7 for 39 yards and the two TDs.
Erickson succeeded Steve Mariucci this season after going 31-17 in four years at Oregon State. From 1995 to '98, he was 31-33 as head coach at Seattle.
"I thought Ken Dorsey did some awfully good things in the second half," Erickson said. "I thought all three of our quarterbacks played really well."
Erickson said he would continue to rotate Dorsey and Doman with the second team.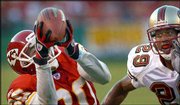 "I wanted them to have the same opportunity to play with the same guys. I didn't want to have Ken in there in the fourth quarter with different guys," he said. "I think this is the fairest way to do it."
The Chiefs (1-1), who led the NFL last season in scoring, have not scored a touchdown in two exhibition games. They won 9-0 with three field goals against Green Bay Monday in a game that was stopped in the third quarter because of lightning.
Against the 49ers, they managed only two field goals by Morten Anderson, from 23 and 26 yards.
"The bottom line is we have to find a way to get it into the end zone," said quarterback Trent Green, who was 8-of-11 for 80 yards.
"But we haven't done any shifting, we haven't done any moving. We break the huddle and we line up. People who have followed this offense the past couple of years know we do a lot of pre-shift movement, we change the alignment quite a bit to cause confusion in the defense."
Priest Holmes continued to look healthy after his hip surgery. The NFL's offensive player of the year last season, Holmes carried three times for nine yards.
"I think he's back to 100 percent," coach Dick Vermeil said.
The 49ers had 321 total yards, but also had five fumbles without losing one.
They lost the ball on their own two in the first quarter after stopping the Chiefs on fourth and goal. Then they fumbled twice on one play in the third.
Rashaan Salaam took a short pass from Doman but fumbled the ball into the hands of guard DeMingo Graham, who proceeded a few steps before coughing up the ball himself. Craig Osika fell on the second fumble for the 49ers.
Salaam, a former Heisman Trophy winner at Colorado who's trying to resurrect his career after being out of football last year, rushed nine times for 27 yards and caught four passes for 34.
"He had that fumble," Erickson said. "But I was proud of the way he fought back and made some plays."
Jamal Robertson rushed 10 times for 70 yards for the 49ers.
Jason Baker, who's battling Leo Araguz for Kansas City's punting job, unloaded a 56- and a 57-yarder and averaged more than 52 yards on his first three kicks.
Jeff Chandler kicked a 27-yard field goal to put the 49ers on top 17-6 in the fourth quarter, but missed on a 34-yard attempt earlier. Nate Fiske missed a 40-yard attempt in the final minutes for the 49ers.
"Their second- and third-(teamers) really performed very well," Vermeil said. "I was really disappointed in the way our seconds and thirds performed. Some of those guys looked like they'd never been on a practice field."
Copyright 2018 The Associated Press. All rights reserved. This material may not be published, broadcast, rewritten or redistributed. We strive to uphold our values for every story published.