Palm Beach Gardens, Fla. — Donald Garcia watched as a funnel cloud with winds over 100 mph tore off his mobile home's awning then hopped across the street, uprooting an old oak tree and slamming it into a neighbor's home.
He screamed to his wife and ran with her into a bathroom, waiting out the tornado as it picked up dozens of nearby homes and smashed them onto their sides, demolishing them and their contents.
His home was spared.
"It's lucky that everyone got out alive. That's the miracle of this," Garcia said Friday.
Thursday's tornado surprised forecasters and carved a three-mile path of destruction, damaging or destroying 500 homes but causing only minor injuries. Gov. Jeb Bush declared an emergency Friday morning that sent state workers to help assess damage and render aid.
Most of the damage was in Riviera Beach and Palm Beach Gardens, about 75 miles north of Miami. The twister flipped over two tractor-trailers, blew railroad boxcars off the tracks and tore the roof off a Pepsi plant. About 400 homes remained without power Friday, down from 30,000 originally.
"I'll tell you truly, I was scared," said Riviera Beach resident J.R. Brown, surveying the damage as police cars roamed the streets.
The heaviest damage appeared to be at the A Garden Walk mobile home park, where wind tore trailers from the ground and smashed them, leaving piles of chairs, clothing, mattresses and belongings. A gas leak temporarily forced out 200 residents.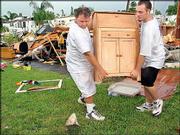 Copyright 2018 The Associated Press. All rights reserved. This material may not be published, broadcast, rewritten or redistributed. We strive to uphold our values for every story published.