As a Kansas University student, John Pepperdine loved to ride his bike through Lawrence's Pinckney Neighborhood.
After living all over the country, he and his wife decided they wanted to raise their family here, and they settled among the neighborhood's tree-lined streets and old homes.
History drew Pepperdine to Pinckney. Now he hopes history will save it.
"This was one of the first neighborhoods in Lawrence," said Pepperdine, who now serves as president of the Pinckney Neighborhood Assn. "The homes are wonderful."
The city of Lawrence is in the final stages of nominating several blocks in Pinckney, which is north of Sixth Street between Ohio and Indiana streets, as a National Historic District. Plans are also in the works for historic districts along Rhode Island Street in East Lawrence and downtown.
But the idea of historic districts -- and the restrictions they place on property owners -- aren't universally embraced.
A credit to Lawrence
Designation as a National Historic District brings with it tax credits for rehabilitation of historic buildings. Renovations costing more than $5,000 and adhering to federal guidelines are eligible for state and federal tax credits.
But not every property owner in the district qualifies.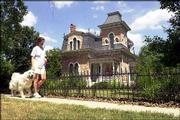 "It has to be listed as a contributing property to the district," said Katrina Klingaman, tax credit programs coordinator with the Kansas State Historic Preservation Office.
Buildings that contribute to the architectural and historical significance of a district are listed in a nomination form to be filed with the National Registry of Historic Places. The city has hired three consulting firms to prepare the nominations.
"(We) establish their context in terms of Lawrence history," said Elizabeth Rosin, a partner with Historic Preservation Services LLC, a Kansas City, Mo., firm the city hired to prepare the East Lawrence nominations.
Most of the groundwork for the nomination was done in 1997, when the city filed a multiple district nomination form with the Department of the Interior. The form lists four specific eras of Lawrence history and identifies the types of architecture that make Lawrence unique.
"We have to fill in any gaps that existed in the survey nomination," Rosin said.
The proposals are almost complete and will be submitted this fall to the City Commission. If they meet commission approval, they'll be sent on for subsequent consideration by state and federal officials.
An economic boost
The downtown district encompasses several blocks of Massachusetts and New Hampshire streets. The tax credits would help property owners in need of financial help to remodel buildings.
"This may be what people need to afford to renovate," said Maria Martin, director of Downtown Lawrence Inc. "It's almost like an economic development tool."
Downtown is also the area least likely to see any ill effects from the intensified building-permit review process that accompanies a historic district designation. Several buildings downtown are on the National Register of Historic Places or in their environs, subjecting them to stricter scrutiny.
"It's not that different from what (property owners) already go through with the Historic Resources Commission," Martin said. "There are so many historic buildings downtown ... this is more of an aid."
Historic headaches
But the districts would bring some restrictions for people wanting to improve their buildings. Any significant changes to a structure in a district must be approved by an oversight board and must fit in with the neighborhood's existing character.
"The rules for the district are actually very flexible," Pinckney's Pepperdine said. "If you want to paint your house a different color, that's fine."
Supporters of the plan say that's a small price to pay for the tax credits. But the districts create a new set of haves and have-nots. Any buildings within 500 feet -- the environs -- of the historic areas are also subject to the restrictions, though they might not qualify for the credits.
"The environs law has always been a bit of a stick," Rosin said. "The credit is a bit of a carrot."
Nearby property owners might qualify for the credits, but to prove eligibility they would have to "have their building evaluated and listed," Klingaman said. Owners won't get the breaks "just for being in the environs."
A living classroom
Even with the potential for problems, the Lawrence Preservation Alliance is firmly behind the push for the designations.
"It gives the young people a sense of place and where they came from," said Carol Von Tersch, alliance president. "How do you know where you're going if you don't know where you've been?"
Von Tersch said in-fill development and neighborhood growth was still possible in and around historic districts, as long as it blended into the area. She also said the historic district designation would encourage homeowners to maintain their houses and take a sense of pride in their neighborhood.
Pepperdine said he and his neighbors were ready.
"This really is a great thing for Lawrence," Pepperdine said. "Anything that helps preserve the integrity and character of the neighborhood is good."
The planned districts have not drawn organized opposition. But they still face at least one more round of formal public hearings.
Copyright 2018 The Lawrence Journal-World. All rights reserved. This material may not be published, broadcast, rewritten or redistributed. We strive to uphold our values for every story published.