Topeka — Col. Mike O'Toole, commander of the 190th Air Refueling Wing of the Kansas Air National Guard, was killed Friday and his wife and daughter were injured in the crash of a single-engine aircraft near Topeka, the Kansas Highway Patrol said.
O'Toole's wife, Pam, was taken to Stormont-Vail Health Center in Topeka where officials said she was in fair condition. Shannon O'Toole was flown to KU Med in Kansas City, Kan., where officials refused to release details.
"A light in the world went out today," said an emotional Maj. Gen. Greg Gardner, the state's adjutant general. "Mike O'Toole was an airman's airman, a true professional, who was universally loved and respected."
O'Toole, 51, had been commander of the 900-member 190th Air Refueling Wing since July 14, 2002. Colleagues said he was an accomplished pilot with more than 6,900 flight hours logged in military aircraft.
National Guard spokeswoman Joy Moser said O'Toole was a part owner of the four-passenger Cessna 182 but that authorities did not yet know if he was at the controls when the plane crashed shortly after 4:30 p.m. in a field in northeast Shawnee County. Moser said the family was en route to Pittsburg to visit Pam O'Toole's brother.
Highway Patrol Trooper Mark Engholm, who confirmed the identities, said the plane crashed on takeoff from a grassy airstrip in a residential area where the O'Tooles lived. Engholm did not know the ages of the two women but said Shannon O'Toole appeared to be in her 20s.
"We don't have any cause for the crash at this point," Engholm said, adding that the National Transportation Safety Board would investigate.
The white plane with blue trim was severely damaged by the crash, although there was no fire, Engholm said. He said the right wing was ripped from the aircraft.
Gov. Kathleen Sebelius ordered flags lowered to half-staff Monday at state buildings. She praised O'Toole as a dedicated officer, family man and friend.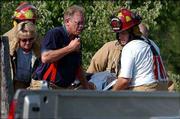 "This is a terrible tragedy. I knew Mike and I believe everyone who knew him would agree, Kansas has lost a great leader and role model," Sebelius said in a statement.
O'Toole enlisted in the 190th in May 1970 and served for three years as an aircraft fuel systems specialist. He accepted an Air Force ROTC scholarship at Washburn University in Topeka and was commissioned in 1975.
He was on active duty as a personnel officer until 1979, when he rejoined the 190th and attended undergraduate pilot training. He returned to Topeka where he served as a traditional Guardsman until 1985 when he was hired as an instructor pilot.
Moser said O'Toole's father, retired Col. Donald O'Toole, was the state aviation officer for the Army National Guard.
"Mike grew up wanting to fly like his Dad," Moser said. "He was a wonderful person."
Col. Gregg Burden will become acting commander until the wing's vice commander, Col. Terry Fritz, returns from vacation.
The 190th Air Refueling Wing is headquartered at Forbes Field in Topeka with 10 KC-135 tankers, which refuel aircraft in flight. The 184th Air Refueling Wing also is based at Forbes.
Members of the 190th have been in Europe during the current Iraq conflict, refueling military aircraft.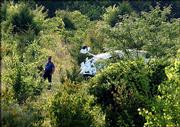 Copyright 2018 The Associated Press. All rights reserved. This material may not be published, broadcast, rewritten or redistributed. We strive to uphold our values for every story published.