Chicago — Mark Buehrle didn't need too much help. And when he did, Carl Everett was there.
Buehrle pitched a five-hitter, outdueling Mark Mulder as the Chicago White Sox edged the Oakland Athletics, 3-2, Friday night and took over the AL Central lead.
The White Sox won for the 16th time in 20 games and moved into first place for the first time since May 25, 2002, nudging a half-game ahead of Kansas City. The Royals lost at Tampa Bay, 4-0.
Everett made the big play, robbing Ramon Hernandez of a home run in the seventh inning. Everett leaped up against the center-field fence and brought back the ball, preserving a 3-2 lead.
"I thought it was a couple of rows deep," Buehrle said. "I still didn't think he caught it until he was running out and pulled it out of his glove. That was a game-saver right there."
Oakland manager Ken Macha agreed.
"That saved the game for them," said Macha. "That was a great play."
Buehrle (10-11) struck out six and walked none in his second complete game of the season and 11th of his career. He retired 17 of the last 19 batters.
Buehrle felt the energy from the 24,118 fans. The crowd came to its feet when he came out to pitch the ninth.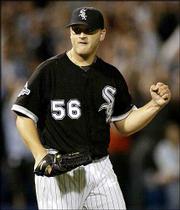 "I just tried not to get too worked up, I kind of got chills. I think it was the seventh inning when they started standing up. I just had to keep the mindset not to overthrow," he said.
Magglio Ordonez went 3-for-4 with home run for the surging White Sox.
"This is where we wanted to be and where everyone expected us to be," manager Jerry Manuel said. "We should be able to sustain this level of play."
Mulder (15-8) allowed three runs and 10 hits in eight innings in his major league-leading ninth complete game this season. He struck out two and walked none in falling to 4-1 against the White Sox in his career.
Once again, Buehrle and Mulder worked quickly. The game took only 1:53 -- they've matched up three times in their careers, and each time the game has been played in under two hours.
Erubiel Durazo homered in the second, and Jose Guillen hit an RBI double in the third to give the A's a 2-0 lead.
But the White Sox came back and took the lead against Mulder with a run in the third and two in the fourth.
Twins 4, Tigers 3
Detroit -- Johan Santana allowed two hits in eight innings, and Matthew LeCroy homered as Minnesota hung on and beat Detroit. Santana (6-3) allowed just one unearned run, struck out five and walked three in Minnesota's 18th win in its last 19 against Detroit.
But the Tigers made it close by scoring twice with one out in the ninth off closer Eddie Guardado. Dmitri Young doubled and Craig Munroe lined a two-run homer over the wall in left-center to make it 4-3. Guardado then struck out Carlos Pena and got Eric Munson to fly out for his 26th save in 29 opportunities.
Mike Maroth (6-16) took the loss for the Tigers, allowing four runs -- one unearned -- and seven hits in eight innings.
Brandon Inge was the only Tigers player to reach against Santana in the first four innings. Inge doubled with one out in the first when right fielder Michael Restovich misjudged his line drive. Santana then picked off Inge at first and Bobby Higginson flied out to end the inning.
Angels 5, Indians 2
Cleveland -- Garret Anderson hit a three-run homer with two outs in the ninth inning, ending rookie Jason Davis' shutout bid and leading Anaheim past Cleveland. Davis (7-9) was one out from blanking Anaheim -- and giving Cleveland consecutive shutouts for the first time since 1991 -- when Anderson drove his first pitch over the wall in center.
Yankees 9, Mariners 7
New York -- Nick Johnson hit a grand slam an inning after David Dellucci made a diving catch with the bases loaded as New York rallied to beat Seattle in a matchup of the teams with the best records in the American League. Hideki Matsui homered for the East-leading Yankees, who won their fifth of seven matchups with the West-leading Mariners this season.
Jeff Nelson came on to pitch the eighth inning and face the Mariners for the first time since being traded back to New York for Armando Benitez Wednesday. Nelson struck out the side, punctuating his final out by pumping his fist and leaping off the mound.
Benitez pitched the bottom half to a loud chorus of boos from the 52,793 fans that came out on a humid night in New York to see a potential playoff preview between division leaders.
As he's been prone to do against New York in the past, most notably in Game 1 of the Subway Series in 2000, Benitez struggled again at Yankee Stadium. He allowed a run-scoring single to Johnson, who set career highs with four hits and five RBIs, that made it 9-7.
Orioles 10-4, Red Sox 4-2
Boston -- Eric DuBose shut down Boston in his second major league start and Baltimore beat the Red Sox 4-2 to sweep a day-night doubleheader. The Orioles won the opener 10-4 as Tony Batista's two-run single highlighted a seven-run seventh inning.
Baltimore has swept all three doubleheaders it has played this season.
After the Orioles ended Boston's four-game winning streak in the opener, DuBose (1-1) limited the Red Sox to one run in six innings.
Rangers 5, Blue Jays 3
Toronto -- Hank Blalock, Mark Teixeira and Laynce Nix homered in the first inning and Texas beat Toronto. Blalock hit his 20th homer, Teixeira hit a two-run shot and Nix also had a two-run homer off Corey Thurman (1-1).
Copyright 2018 The Associated Press. All rights reserved. This material may not be published, broadcast, rewritten or redistributed. We strive to uphold our values for every story published.