St. Louis — A milestone game for Albert Pujols helped the St. Louis Cardinals avoid a sweep.
Pujols reached 100 RBIs, scored his 100th run and extended his hitting streak to 21 games in a 3-0 victory Thursday over the Florida Marlins.
"It's good to get it and it shows what I've accomplished, but it's more important that we won," Pujols said. "We avoided a sweep and that's real big for us."
Brett Tomko pitched shutout ball into the ninth as the Cardinals ended a three-game losing streak.
The Marlins have won nine of 12, and held St. Louis to six runs in the series.
"We took two of three and I'm happy," manager Jack McKeon said. "We came in with the idea of winning the series and we did that."
Pujols is 33-for-82 (.402) during his hitting streak, the team's longest in four seasons, to raise his average to a major league-leading .372. He joined Jose Canseco as the only players to begin their careers with 30 homers and 100 RBIs in their first three seasons.
"He did it like he usually does it," manager Tony La Russa said. "He got us on the board in the first inning."
Tomko (8-7) won for the first time in five decisions at home, although he's pitched a lot better at Busch Stadium than on the road. He has a 3.30 ERA in 11 home starts and is 7-3 with a 7.53 ERA in 13 road games.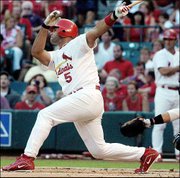 Tomko has allowed more hits and runs than any NL pitcher. But he held the Marlins hitless until Mike Lowell singled to start the fifth and left after giving up his fourth hit in the ninth.
Jason Isringhausen worked the ninth for his ninth save in 10 chances, completing the Cardinals' fifth shutout.
Pujols' RBI double in the first off Josh Beckett (5-6) gave the Cardinals the lead. St. Louis added two runs in the sixth on an RBI single by Scott Rolen and the alert baserunning of Bo Hart.
Cubs 9, Padres 3
San Diego -- Sammy Sosa hit a two-run homer for the second straight game, and Moises Alou and Eric Karros also connected for Chicago. Carlos Zambrano (10-8) won his fourth straight.
Mets 5, Astros 4
Houston -- Tony Clark hit a tiebreaking home run in the sixth inning, helping Steve Trachsel (10-7) earn his 100th career victory as New York beat Houston. Jeff Bagwell hit two homers -- giving him 27 -- and tied Duke Snider for 34th on the career list with 407.
Braves 7, Brewers 1
Milwaukee -- Mike Hampton (9-5) won his sixth straight decision, and Vinny Castilla drove in three runs with a triple and a homer for Atlanta.
Giants 7, Pirates 5
San Francisco -- Jeffrey Hammonds fouled off a bunt try and then hit his first homer for San Francisco, a two-run shot that broke a seventh-inning tie. It was 5-all when Jose Cruz Jr. drew a leadoff walk in the Giants seventh from Brian Boehringer (5-3). Hammonds tried to sacrifice but fouled it off before homering into the left-field stands on a 3-2 pitch.
Rockies 4, Phillies 3
Denver -- Todd Helton and Chris Stynes homered as Colorado came back to beat Kevin Millwood and Philadelphia. Helton homered for the second straight day. Stynes connected in the seventh inning, breaking a 3-3 tie with his ninth home run of the year. Millwood (11-8) was reached for four runs and six hits in eight innings.
Dodgers 4, Reds 3
Los Angeles -- Eric Gagne tied the major-league record for consecutive saves from the start of a season, and Adrian Beltre hit a go-ahead two-run double as the Los Angeles Dodgers completed a three-game sweep of Cincinnati.
Gagne, the fourth Dodgers pitcher, struck out the side in the ninth for his 46th straight regular-season save and 38th this year, matching the record Jose Mesa set in 1995 with Cleveland. Mesa finished that season 46-for-48.
Diamondbacks 5, Expos 4, 10 innings
Phoenix -- Raul Mondesi homered on Eric Knott's first pitch in the 10th inning Thursday night to give Arizona a victory over Montreal, completing a three-game sweep of the Expos.
Copyright 2018 The Associated Press. All rights reserved. This material may not be published, broadcast, rewritten or redistributed. We strive to uphold our values for every story published.