In December 1947, three dozen men, led by promoter/driver William H.G. "Big Bill" France, met in a Daytona Beach, Fla., hotel room to discuss ways to bring procedural uniformity to stock-car racing. At that meeting, the National Association of Stock Car Auto Racing was born.
The organization sponsored its first race in February 1948 and hasn't looked back since.
As the 55th season of NASCAR races by, That's Racin' looks back at the history of the motorsport with this trivia quiz and matching exercise. Think you're a die-hard stock-car fan? Let's see how you measure up.
Trivia quiz
1. Who has the record for most starts in NASCAR's prestigious Daytona 500?
A. Richard Petty
B. Dave Marcis
C. Cale Yarborough
D. Hershel McGriff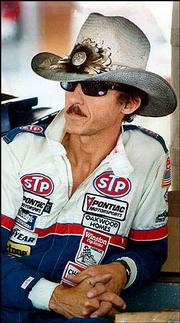 2. Who is the only championship-winning driver to double as his own crew chief?
A. Tim Flock
B. Alan Kulwicki
C. Lee Petty
D. Bob Welborn
3. Who has the most Winston Cup career victories among active drivers?
A. Jeff Gordon
B. Bobby Labonte
C. Rusty Wallace
D. Mark Martin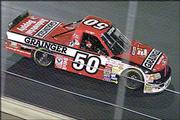 4. Who is the youngest race winner in NASCAR history?
A. Jeff Gordon
B. Donald Thomas
C. Kurt Busch
D. Harry Gant
5. Who is the only person to win three consecutive Winston Cup titles?
A. Junior Johnson
B. Dale Earnhardt
C. Fred Lorenzen
D. Cale Yarborough
6. Seven-time points champion Richard Petty leads Winston Cup drivers with 200 career wins. Who ranks second on the all-time career victory list?
A. Dale Earnhardt
B. David Pearson
C. Jeff Gordon
D. Ernie Irvan
7. Greg Biffle won the 2002 Grand National championship and the 2000 Truck Series title. Who is the other Winston Cup driver to win championships in two of NASCAR's top three circuits (Winston Cup, Grand National and Truck series)?
A. Ricky Rudd
B. Steve Park
C. Matt Kenseth
D. Bobby Labonte
8. Which of the following drivers earned rookie-of-the-year honors in his first year on the Winston Cup circuit?
A. Mike Skinner
B. Elliott Sadler
C. Dale Earnhardt Jr.
D. Jimmy Spencer
9. Which brothers both won the Daytona 500?
A. Bobby and Donnie Allison
B. Ward and Jeff Burton
C. Terry and Bobby Labonte
D. Darrell and Michael Waltrip
10. Which father-son combination hasn't both won a NASCAR Winston Cup race?
A. Ned and Dale Jarrett
B. Coo Coo and Sterling Marlin
C. Buck and Buddy Baker
D. Bobby and Davey Allison
Matching exercise
Now that you've had a chance to test your trivia engines with the quiz, let's see how well you really know your NASCAR minutiae. Match the following NASCAR drivers with their popular nicknames.
1. Dale Earnhardt A. Jaws
2. Terry Labonte B. Silver Fox
3. DeWayne Lund C. King of the Beach
4. Everett Owens D. Smoke
5. David Pearson E. The Iceman
6. Glenn Roberts F. Tiny
7. Tony Stewart G. Fireball
8. Marshall Teague H. Cotton
9. Curtis Turner I. Blonde Blizzard
10. Darrell Waltrip J. The Intimidator
Quiz answers: 1- B; 2- C; 3- A; 4- B-; 5- D; 6- B; 7- D; 8- A; 9- D; 10- B.Matching answers: 1- J; 2- E; 3- F; 4- H-; 5- B; 6- G; 7- D; 8- C; 9- I; 10- A.
Copyright 2018 The Lawrence Journal-World. All rights reserved. This material may not be published, broadcast, rewritten or redistributed. We strive to uphold our values for every story published.