Lawrence Raiders coach Carl Brooks doesn't mince words when it comes to Derek Bailey.
"In this season, Derek has been one of the top three or four players I've ever coached," the 30-year coaching veteran said.
Bailey's leadership and hitting ability in helping the Raiders to their first state championship in 39 years validates Brooks. The Lawrence center fielder leads his team in nearly every offensive category, plays flawlessly in the field and might be the most focused player in a talent-heavy lineup.
"Derek has a huge desire to succeed," Brooks said. "He's just really driven. I think he wants to prove to people that he's a quality player. You see him play and you can just see the fire in his eyes. It's very rare in a player that age."
Some of the credit for that goes to Kansas University.
Bailey, a 2002 Lawrence High graduate, took a red-shirt season for the Jayhawk baseball team last year, which was great -- he hit the weights and put on 15 pounds -- but never got to play. It drove him nuts.
It also made him better.
"Along with the weight training at KU, coach (Ritch) Price and his program has really paid off," Bailey said. "Then, not playing all year just made me hungry to get out there. Sitting around, running the (radar) gun was killing me."
Plus, Bailey benefited from an American Legion rule change, making 19-year-olds with late birthdays eligible. That allowed Bailey and catcher Tommy Mangino, among others, a spot on the Raiders' roster.
"We knew about that halfway through last year. Coach Brooks kept telling me, 'You can come back next year,'" Bailey said. "I really didn't know if I would or not, but then I made KU and decided I'd play. I'm happy I did it."
So are the Raiders.
Bailey leads the squad in batting average (.445), slugging percentage (.799), home runs (nine), RBIs (67), runs (62) hits (73), triples (10) and stolen bases (14). He, along with Matt Berner and Aaron Madill, were named team MVPs.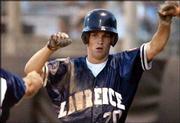 If Bailey has one weakness, it's plate discipline.
"He still struggles with being patient at the plate," Brooks said. "That would be the one thing that he needs to work on. He just wants things to happen so badly, he pushes too hard sometimes.
"If he had a little more patience at the plate, he'd be scary."
Brooks said Bailey isn't like any player he has coached in Lawrence, but reminds him of a Bartlesville, Okla., player named John Hart, whom Brooks coached when he lived there.
But Hart -- a two-time academic All-Big Eight selection, who played at KU from 1984 to 1986, batting .322 in 425 career at-bats -- doesn't have Bailey's power.
On a team that features 10 players hitting better than .300, Bailey makes a good team great.
"We'd still be good, but we wouldn't be what we are," Brooks said.
What they are, is red hot.
The Raiders (39-10) smoked the field at last weekend's American Legion Class AAA state tournament in Hays, outscoring opponents 44-21 and notching 44 hits in their first two games alone.
Including three forfeits, that gives the Raiders 19 straight wins, going back to July 5.
"It has really been an awesome run for us," Bailey said. "It's been incredible, really. Our pitching has been great, our bats have gotten hot, but our defense has really been what's carried us all year."
After beating Salina, 5-3, in Sunday's championship game, Bailey showed Brooks another intangible -- character.
"After the game Sunday, Derek came up to me and put his arm around me. We had tears in our eyes and it was just a real touching thing," Brooks said. "I was overwhelmed. I think Derek knew how much winning meant to me. It was something special."

Other Lawrence Amateur Baseball Assn. award winners: Bandit MVPs were Brett Lisher and Jake Hoover; Mavericks MVP was Matt Wingert; Outlaw MVP was Daniel Dulin; L.A.B.A. scholarships went to David Arndt and Blake Dickson; Dulin won the Louie Heinrich scholarship and the Al Ice scholarship went to Matt Berner.
Copyright 2018 The Lawrence Journal-World. All rights reserved. This material may not be published, broadcast, rewritten or redistributed. We strive to uphold our values for every story published.