PAXICO — Kent Sallee was hopeful as he carefully removed a layer of soil near a Wabaunsee County creek, stopping each time his trowel hit a bone, mussel shell or piece of flint.
Thousands of years ago, humans stopped in the area where Sallee was digging as part of a nearly 30-year-old program that lets people of all backgrounds explore historical sites alongside professional archaeologists.
Sallee knew discovering a projectile or other artifact would be significant, providing information about some of Kansas' earliest inhabitants. Even if Sallee didn't find that, the chance to get a break from his regular job and pursue a lifelong interest in archaeology was reward enough.
"I almost forgot where I work," said Sallee, of Inman, an office supply store manager who also teaches classes for emergency medical technicians. "That's nice."
Volunteers like Sallee come from across the state each summer to participate in the Kansas Archaeology Training Program, sponsored by the Kansas Anthropological Assn. Most paid around $40 to join this year's excavation.
Previous sites have ranged from a frontier military post in Ellsworth County to a Pony Express station in Washington County. Organizers will announce the 2004 site early next year.
The professionals say the volunteers -- about 90 this year -- are indispensable.
"They allow us to move a lot of dirt and facilitate the excavation," said Rolfe Mandel, who led the dig. "We couldn't do it without all the volunteers."
Some labored for a day. Others from the beginning to the end. Digs last anywhere from 16 days to nine days, as was the case this year. Volunteers spent more than 3,000 hours on the dig.
Mandel said there's "nothing romantic" about the work.
"Two days ago," he said, "it was 104 degrees."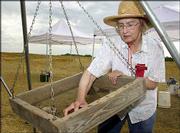 Sallee was hooked after going on his first dig 15 years ago. Laverna Ernst joined her husband on a dig 28 years ago. The couple has only missed one dig since.
"Every place we go is a learning experience," said Ernst, 78, of Enterprise, recalling in particular a dig in western Kansas. "From I-70 it all looks flat, but it isn't. You don't get to know it until you get out and roam around."
Mandel, an associate professor at Kansas University, discovered the site for this year's dig in 1999 when he peered down the side of a creek bank and noticed a line of mussel shells -- a good indicator of artifacts. A more thorough examination revealed bones and bits of pottery. Carbon dating of a fragment of charcoal suggested those remains were 900 years old, Mandel said.
A few hundred yards away Mandel noticed other remnants buried under about 30 feet of earth, partially exposed as the bank of the creek eroded. Tests suggested the items were left by humans 9,000 years earlier.
Mandel said there were few documented sites that old in Kansas, but there were indications that remnants from even earlier inhabitants along the creek.
The excavation, Mandel said, suggest hunter-gatherers caught mussels, along with turkey and deer in this former floodplain. Sediment gradually covered the area, which now borders a farmer's field.
"This," Mandel said of the site, "is literally a small window into time."
Copyright 2018 The Associated Press. All rights reserved. This material may not be published, broadcast, rewritten or redistributed. We strive to uphold our values for every story published.