Grand Blanc, Mich. — Tiger Woods threw his hands in the air, smiled and laughed.
His eagle from a bunker on his first hole Friday still wasn't nearly enough to close the big gap between himself and Buick Open leader Chris DiMarco, who is 13 under after an 8-under 64 in the rain-delayed second round.
Woods was 5 under through 15 holes and five strokes behind DiMarco when play was stopped for the day. Woods will return today to finish the second round, which was delayed for five hours because of lightning and heavy rain and later was suspended by darkness.
Woods started the day 3 under -- 10 strokes behind DiMarco -- in his final tuneup before playing the PGA Championship in two weeks, his last chance this season to win a major.
David Sutherland and Paul Gow shot 67s and were two shots behind DiMarco, who finished his round in perfect conditions well before the weather delay.
Woods was lining up an 18-foot birdie putt at No. 4 when the weather alarm blared at Warwick Hills, forcing players to stop play and fans to seek shelter. He looked up and grinned at a blue sky sprinkled with white clouds.
The PGA Tour decided to call for the delay because a storm was expected to reach the course within 15 minutes. However, it didn't start to rain for about two hours.
Gow agreed with the decision.
"They have got to worry about the spectators and the players," he said.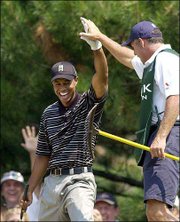 The delay lasted for another two hours before the players were allowed to start practicing and resume the round.
DiMarco, who began the second round 5 under, fell to 4 under before putting together nine birdies over the next 12 holes.
DiMarco, third in two of the first four tournaments this year, has seven top-10 finishes and is 14th on the money list. He has won one tournament in each of the last three seasons.
At the 2001 Buick Open, DiMarco shot a 23-under 265 to finish second to Kenny Perry by two strokes.
"I have a lot of good memories," DiMarco said.
DiMarco knows he can't get comfortable with his lead at Warwick Hills because the short course with true greens is always susceptible to low scores regardless of the conditions.
"I'm going to go out and try to make birdies and play aggressively," he said. "With the rain, the greens are going to stay soft so you can fire at the pins."
Gow made the cut just twice in 11 events this season, including the British Open where he was tied for 33rd, and is No. 216 on the money list. His best career finish came at the 2001 B.C. Open, where he was second.
Dougherty tops in Sweden
Loddekopinge, Sweden -- Nick Dougherty shot a 3-under 69 to take a three-shot lead halfway through the Scandinavian Masters. He was at 8-under 136 after two rounds. Former European Ryder Cup captain Mark James (70), Luke Donald (68) and Maarten Lafeber (71) were tied for second.
Fleisher ties record
Concord, Mass. -- Bruce Fleisher tied a tournament record with a 7-under 64 in the first round of the Champions Tour's FleetBoston Classic.
He held a one-stroke lead over Tom Purtzer at Nashawtuc Country Club.
Copyright 2018 The Associated Press. All rights reserved. This material may not be published, broadcast, rewritten or redistributed. We strive to uphold our values for every story published.