For Kansas parents, chances are good the check is in the mail -- but so too may be a dilemma.
About 251,000 Kansas parents soon will receive a check for at least $400 from the Internal Revenue Service as part of a change in federal tax law that increased the Child Tax Credit to $1,000 from $600.
The dilemma: spend it or save it?
"I bet most people likely will spend it," Nicole Gallagher, a mother of three from Ozawkie, said Friday while shopping in downtown Lawrence.
Economists and politicians are betting that way too.
"In lean times, you can't really afford to save, so it doesn't surprise me that most people say they're going to spend it," said Luke Middleton, an economist with Kansas University's Policy Research Institute.
But financial planners said parents should try to do something else with the cash: save as much of it as possible.
"I like to call it my saving money from heaven strategy," said Liz Kundin, an investment representative with a Lawrence branch of Edward Jones. "It basically is a strategy of saving any money that isn't part of your standard cash flow. It is really kind of a painless way to save."
Painless, but not easy.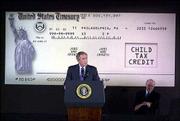 "It is always tough," Kundin said. "It is always a battle between emotion and rationality. That's why we encourage people to put together a financial savings plan so they can act rationally instead of emotionally."
People are receiving the check because they have children, Kundin said, so it makes sense to consider saving the money for child-related expenses, like paying for higher education.
Parents could consider investing the money in a 529 College Savings Plan or a Coverdell Education Savings Account, both of which provide tax benefits to parents saving for college.
Several downtown Lawrence shoppers said they would be using the tax check on their children, but in a much simpler way -- for school supplies.
"I think most people are going to spend it because this time of year there is plenty to spend it on," said Jean Cox of Palco. "School clothes, school supplies."
The fact the checks are arriving at such an opportune time is probably no coincidence, Middleton said. President Bush hopes people will spend the found money, which will help revive the economy.
Opinions were mixed on whether the tax checks would boost the struggling economy. Several shoppers said they thought increased spending would have to help.
Kim Clements, a manager at SuperTarget, 3201 Iowa, said she expected the tax money to mean business at her store.
"I think it will boost our sales a little bit," Clements said. "People having extra cash always helps. Maybe they were planning on making their kids use last year's school supplies and now they can buy new."
Middleton agreed the new money would sweeten the back-to-school shopping season for Lawrence retailers. But he said he doubted whether the tax break would do much for the overall economy in the long term.
"I don't think we'll hear any retailers complaining about this," Middleton said. "If I were them, I wouldn't. But my concern is that this is sort of a one-shot sort of boost. It is not really a significant structural change in how the economy works."
But it might be a good chance to have a little fun. Gallagher said her family would spend half the money on a trip to Silver Dollar City in Missouri.
"I think a lot of people will start out saying they're going to save it, but then will end up buying something with it," Gallagher said. "When you know for a long time that the money is coming, it is hard not to think of something to spend it on."
Copyright 2018 The Lawrence Journal-World. All rights reserved. This material may not be published, broadcast, rewritten or redistributed. We strive to uphold our values for every story published.