COLUMBUS, OHIO — A man who police say made his living stealing car stereos and has a history of setting fires was charged Friday with killing five college students in an arson near Ohio State University.
Robert Lucky Patterson, 20, set fire to a couch on the front porch of a three-story rooming house after stealing radios from cars in the neighborhood, Detective Mike McCann said. Patterson lives near Ohio State but was not a student, authorities said.
The students were killed in an early morning fire April 13 at a house where about 80 people celebrated the 21st birthday of one of those killed. Patterson did not know the people at the party, McCann said.
"He picked that house, as far as we can tell, at random," McCann said.
As many as 20 people still were in the house when the fire was set near the front door. Two Ohio State students and three from Ohio University died.
Patterson went to police headquarters Friday morning at the request of detectives and was arrested after several hours of questioning, said Franklin County Prosecutor Ron O'Brien.
He was charged with aggravated murder, attempted aggravated murder and aggravated arson, McCann said. Patterson first surfaced as a possible suspect through a telephone tip three days after the fire.
"Mr. Patterson made statements implicating himself in the fire," McCann said when asked if Patterson confessed. "He's expressed remorse that five people died."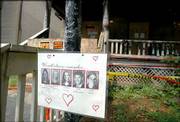 O'Brien said Patterson was the man police were seeking who had been involved in a dispute in the parking area of the house on the night of the fire.
Patterson made pizzas at Ohio State Pizza near campus for seven or eight months but was fired before the blaze, co-workers said.
"He felt like his family didn't love him," said Rich Alcott, 36. "He was just a sad, sad person. He laughed all the time, but he didn't seem happy."
Patterson's brother declined to comment to a reporter at his job Friday.
O'Brien said no decision had been made on whether to seek the death penalty if Patterson was convicted of aggravated murder.
Police have interviewed more than 100 people since the fire. A reward for information had grown to more than $30,000.
Patterson, who didn't have an attorney Friday, was in custody Friday night, Deputy Craig Brafford said. O'Brien said prosecutors would ask that Patterson be held without bond at his arraignment today.
"We still consider him a danger to the community," O'Brien said.
Copyright 2018 The Associated Press. All rights reserved. This material may not be published, broadcast, rewritten or redistributed. We strive to uphold our values for every story published.