Margate, N.J. — How do you make a six-story wooden elephant easier for the handicapped to enjoy?
Bring in soul legends James Brown and Patti LaBelle, of course.
The operators of Lucy the Elephant are trying to raise more than $375,000 to bring the historic landmark into compliance with the Americans with Disabilities Act.
Today, the Godfather of Soul and the R&B; diva will headline a benefit concert for Lucy the Elephant.
The elephant, which overlooks the beach in this tony residential community, was built in 1881 by land speculator James V. Lafferty, who hoped it would help lure real estate buyers to what was then South Atlantic City.
In the early 1900s, the 90-ton structure operated as a home and later a rooming house before being converted into a tourist attraction. Kept afloat through the years by admission fees, the occasional generous donation and government grants, the building is listed on the National Register of Historic Places.
The federal government has agreed to provide $125,000 for the renovation. But that's peanuts compared with the total amount needed.
That's where Brown and Labelle come in.
"We need at least 3,700 people (to attend) to break even," said Richard Hellfant, executive director of Lucy the Elephant. But tickets for the show at the 10,000-seat Boardwalk Hall in Atlantic City -- priced at $55 to $95 -- aren't selling well.
If the concert doesn't raise enough money, Hellfant said, he will try something else.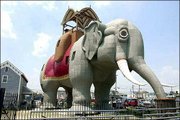 Copyright 2018 The Associated Press. All rights reserved. This material may not be published, broadcast, rewritten or redistributed. We strive to uphold our values for every story published.