New York — The Detroit Shock showed why they have the best record in the WNBA.
Ruth Riley's 13-foot jumper with 3.7 seconds to play gave the Shock a 62-60 victory over New York Friday night, the Liberty's franchise-record fifth straight loss.
Swin Cash scored 18 points and Riley added 14 for the Shock, who won their third straight.
"We never panic," Detroit coach Bill Laimbeer said. "It's amazing to watch. We knew we could get the stops. Even after all kinds of wild stuff went on, we still believed we were going to win. We have great mental toughness. That's one of the great characteristics of this team."
Vickie Johnson and Tari Phillips each had 15 points for the Liberty, while rookie Erin Thorn added 12 on 4-of-6 shooting from three-point range.
"We're blessed ... the difference between last year and this year is night and day," Cash said. "I stayed aggressive, and that sparked us."
Elaine Powell of the Shock (17-6) hit a three-pointer with 59 seconds left to make it 58-58, the first tie since tipoff.
Riley hit an open jumper with 23 seconds left to give Detroit its first lead of the game, but Johnson drove baseline and found Phillips for a layup to tie it at 60 with seven seconds left.
Cash then posted up and dished to Riley, who swished her second straight jumper from the free-throw line.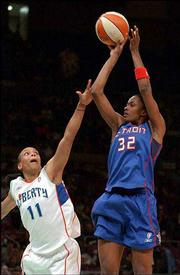 "We've been in this situation before," Riley said. "We remained calm. We knew we had to pick up our intensity and we did."
Johnson put up a shot before the buzzer, but it was off to the right.
"It hurts. It hurts bad," Liberty guard Teresa Weatherspoon said. "When you fight as hard as we fought and walk into this locker room without a win, it's hard."
Rockers 73, Mercury 56
Cleveland -- Penny Taylor set a franchise record with 33 points, leading Cleveland. Taylor was 11-for-15 from the field and broke the team record of 30 points shared by Chasity Melvin and Deanna Jackson. Lisa Harrison and Keyte Christenson each scored 12 points to lead Phoenix (4-19).
Mystics 48, Sun 45
Uncasville, Conn. -- Ashja Jones scored 14 points and grabbed a career-high 12 rebounds, leading Washington. Shannon Johnson led Connecticut with 18 points, while Katie Douglas added 14.
Silver Stars 63, Comets 53
San Antonio -- Adrienne Goodson had 17 points and 10 rebounds, and Margo Dydek had 15 points and 10 rebounds to lead San Antonio. Tina Thompson had 16 points and Sheryl Swoopes added 15 for the Comets (14-9), who had a four-game winning streak snapped.
Copyright 2018 The Associated Press. All rights reserved. This material may not be published, broadcast, rewritten or redistributed. We strive to uphold our values for every story published.