Ashburn, Va. — Rob Johnson is trying to learn to play the Steve Spurrier way. Sometimes it makes the 30-year-old quarterback look like a rookie.
The Spurrier way means holding the ball high, near the shoulder pad, when dropping back to pass.
The Spurrier way means flawless footwork, a challenge for a quarterback with a reputation for happy feet.
The Spurrier way means changing the play at the line of scrimmage and always looking for the big gain, rather than the more conservative West Coast offense approach of Tampa Bay and Buffalo.
One week into the Washington Redskins' training camp, Johnson is working hard to get it right.
"If you get a guy young enough in camp, it's a lot easier to change," Johnson said Friday. "But when you've been throwing the same way for 15 years, that makes it tough."
Johnson was signed in March as veteran insurance behind second-year starter Patrick Ramsey, who is six years younger but looks much more comfortable because he's had a year under Spurrier. It doesn't help Johnson that Ramsey is getting the overwhelming percentage of snaps in practice, leaving little chance for the backups to master the scheme.
But Johnson is making other contributions, from the veteran insight he offers Ramsey to the winning experience he brings from being Brad Johnson's backup last year for the Super Bowl champion Tampa Bay Buccaneers.
He's also realistic about being a backup.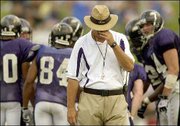 "I think every team needs two quarterbacks," Johnson said. "Patrick's got a ton of ability. My job is if something happens to him, to fill in and win games. That's the position I'm in right now in my career. I've accepted that role, and that's what I'm going to do."
Eagles
Bethlehem, Pa. -- He was late, but Jerome McDougle got to training camp Friday.
The Eagles' first-round draft choice agreed to a contract Thursday, ending a six-day holdout. He missed a scheduled flight to be at camp in time to practice Friday morning but arrived for afternoon practice.
"Having signed my contract and getting everything behind me, I can start playing football. It's good for me," the defensive end said, "I just want to stay humble and get to work and show them what I can do."
McDougle agreed to a six-year contract that could be worth as much as $12.6 million over the first five years with incentives. He received a $6.1 million signing bonus.
Falcons
Greenville, S.C. -- Warrick Dunn and T.J. Duckett are getting more time in the same backfield after rarely playing together last season.
"It's good to see they're tinkering just a bit to see what guys can do and utilize the talent they have and not just have talented guys sitting on the bench," Dunn said Friday. "I don't think they want to deal with that, but I think they're trying."
Added Duckett, "It's nice, but I think right now we're working on a lot of things and we're just getting adjusted to it. There are situations where I'm the H-back, Warrick's the H-back, then they bring a fullback in. They're mixing a lot of things up."
Perhaps the most significant reason for change was the retirement of fullback Bob Christian. His replacements have little experience.
Saints
New Orleans -- Darrin Smith has a Super Bowl ring and a masters degree, both rare for the Saints.
He's still working on earning a starting job at linebacker, competing with Cie Grant and Orlando Ruff.
Smith, 33, is going into his 11th year in the NFL. He's been a starter with the Saints since the fifth game of the 2000 season, his first with the team, and has started 130 of the 138 games he's played in.
"I can't say enough good things about him," said Ruff, who came to the Saints as a free agent from San Diego. "Eleven years and he's always been a winner. Look at his championships -- two in college with Miami and two on this level. He's incredible."
There are 10 linebackers in camp. Smith is the only one with double digits next to his time in the league and one of only two who have played in the NFL more than five years.
"I think New Orleans has had a tradition of good linebackers going back to people like Sam Mills and Rickey Jackson," Smith said. "We want to keep that tradition alive."
Broncos
Denver -- Broncos offensive left tackle Ephraim Salaam is expected to be out two weeks after having arthroscopic surgery on his right knee Friday.
Salaam missed part of practice Thursday because of inflammation before having surgery to remove bone chips from his knee.
Coach Mike Shanahan said he hoped to have Salaam back in time for the preseason game against Indianapolis Aug. 25.
Copyright 2018 The Associated Press. All rights reserved. This material may not be published, broadcast, rewritten or redistributed. We strive to uphold our values for every story published.