Baltimore — Enjoying his finest performance in years, Pat Hentgen looked far more like a former Cy Young award winner than a pitcher who underwent elbow surgery just 24 months earlier.
The right-hander also showed why he would have been a fine acquisition for a contender in need of pitching help for the stretch drive.
Hentgen took a three-hitter into the ninth inning before allowing a leadoff homer to Johnny Damon, and the Baltimore Orioles held on to defeat the Boston Red Sox, 2-1, Friday night.
Tony Batista and Brook Fordyce hit run-scoring singles for the Orioles, who improved to 3-3 against Boston this season.
Vying for his first shutout since 2000, Hentgen was lifted after Damon's hit. Jorge Julio then got three straight outs to complete the four-hitter and earn his 25th save.
Though denied his first complete game since 2001, Hentgen (4-5) had no complaints.
"It's been a long time since I had a CG and a shutout, so going into the ninth inning it was exciting, especially in our hometown," he said.
But when Damon sent a 1-0 pitch over the scoreboard in right field, Orioles manager Mike Hargrove went to the bullpen.
"I thought it was the right move. He gave me a shot at it, and I just couldn't finish the ninth," Hentgen said.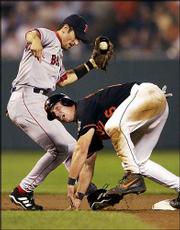 Hentgen, who won the 1996 Cy Young award with the Toronto Blue Jays, was rumored to be headed out of Baltimore before Thursday's non-waiver deadline.
"I would say that's obviously the best game that he's thrown as an Oriole," Hargrove said.
Rangers 10, Indians 3
Arlington, Texas -- Mark Teixeira and Todd Greene had two homers each as Texas tied a team record by hitting seven. Michael Young, Alex Rodriguez and Rafael Palmeiro also connected for the Rangers, who had seven homers for the third time in club history. John Thomson (9-10) gave up three runs and in eight innings while winning for the fifth time in six decisions. Billy Traber (5-6) allowed six runs in two innings.
Twins 10, Tigers 4
Minneapolis -- Detroit center fielder Alex Sanchez made a bizarre attempt to stop Michael Restovich's two-run triple as Minnesota beat the Tigers for the 16th straight time. Leading 5-1, the Twins broke open the game with three runs in the third, highlighted by Sanchez's strange play. Restovich hit a low liner to left-center, and Sanchez -- a left-hander -- took his glove off his right hand while chasing the bouncing ball, which got by him.
White Sox 12, Mariners 1
Seattle -- Carl Everett, Paul Konerko and Carlos Lee homered to back Bartolo Colon (9-9), and Chicago earned its fifth straight win. Everett had five RBIs as the White Sox pulled within one percentage point of Kansas City for the AL Central lead. Chicago has won 13 of 14 since trailing the Royals by eight games July 17.
Angels 5, Blue Jays 0
Anaheim, Calif. -- Roy Halladay's 15-game winning streak ended when Anaheim beat Toronto on a combined four-hitter by Ramon Ortiz and Ben Weber. Ortiz (13-8) won for the ninth time in 12 decisions. Halladay (15-3) had not lost since starting 0-2.
Athletics 3, Yankees 2 (10)
Oakland, Calif. -- Miguel Tejada recaptured a bit of the magic that made him last season's AL MVP, hitting a two-out homer in the 10th inning. The Yankees appeared headed for their fourth straight road win until Alfonso Soriano booted Tejada's routine two-out grounder in the eighth, allowing Mark Ellis to score the tying run.
Copyright 2018 The Associated Press. All rights reserved. This material may not be published, broadcast, rewritten or redistributed. We strive to uphold our values for every story published.