Fred Krebs would rather not give a lecture to explain how Stephen Douglas orchestrated the 1854 Kansas-Nebraska Act.
He'd prefer to don a black wig and top hat and give a speech by Douglas, the senator from Illinois who sponsored the act.
That's the philosophy behind the Kansas Chautauqua, which aims to make history come to life next summer in Lawrence. Five days of presentations, workshops, film screenings, book discussions and music are planned, all focused on bringing the "Bleeding Kansas" era of state history to the masses.
"We're not out to do encyclopedia knowledge," said Krebs, a history professor at Johnson County Community College. "We're trying to get the audience involved. It's a humanities program. We're not so much interested in trivial pursuit."
Krebs and his fellow re-enactors are in Lawrence this week to meet with officials from the Kansas Humanities Council, which is organizing the chautauqua.
The traveling troupe will be in Lawrence June 25-29, 2004. It also will make stops in Junction City, Colby and Fort Scott next summer.
Next year will be the first for the Kansas Humanities Council to have a Kansas Chautauqua. It coincides with the 150th anniversary of the Kansas-Nebraska Act, which opened the territory for white settlement and set the stage for the sometimes-violent debate about whether to allow slavery.
The Kansas Humanities Council collaborates with agencies in North Dakota, South Dakota, Nebraska and Oklahoma annually for the Great Plains Chautauqua. Chautauquas were popular in the late 1800s and early 1900s throughout the United States.
Next summer, re-enactors will portray Douglas; President Lincoln; abolitionist John Brown; Frederick Douglass, former slave and abolitionist; David Atchison, U.S. senator and leader of Missouri border ruffians; and Clarina Nichols, an abolitionist and temperance advocate.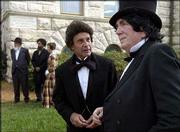 "We focus on first-person characters," said Marion Cott, executive director of the Kansas Humanities Council. "It really makes history come alive for people in a way a straight lecture or reading about it does not. You get to know the figure and what they stood for."
While in Lawrence, many of the events will be at a 500-seat tent in South Park.
"This town thrives on these sorts of things," said Judy Billings, director of the Lawrence Convention and Tourism Bureau. "We're interested in our history. We soak it up wherever we can."
And the chautauqua should bring tourists to town, Billings said. Two travel writers -- from American Automobile Assn.'s Home and Away Magazine and Midwest Traveler magazine -- were in town Friday to learn about the event, and Billings said Midwest Living magazine also planned an article.
The six re-enactors practiced their presentations Friday at SpringHill Suites by Marriott and received critiques from one another and a group of historians gathered there.
Charles Everett Pace, a professor at Centre College in Danville, Ky., who portrays Frederick Douglass, said the planning was a sign that chautauquas turned scholars into actors and not the other way around. One of the main goals is to relate the characters to one another and specifically to Kansas history.
"It's more than an entertainment form; it's about education," he said. "It brings people together. They have a different topic to talk about besides how the Yankees are doing and how's the weather."
Pace, who has portrayed many characters in chautauquas during the past 14 years, said Lawrence could expect special things from next year's event.
"When you get 800 or 1,000 people under a tent, about day two you start to see a buzz happen around town, and everybody's on the same page," he said.
Copyright 2018 The Lawrence Journal-World. All rights reserved. This material may not be published, broadcast, rewritten or redistributed. We strive to uphold our values for every story published.