Engines roared and mud flew as metal collided with metal Friday night, much to the glee of at least 3,000 people getting their annual fix of Douglas County Free Fair demolition derby chaos.
"It's a good way to spend a Friday night," said Brian Craig, Baldwin, who has been watching the derby for three or four years.
His niece, Echo Craig, 10, and two nephews, Skyler Craig, 8, and Bram Craig, 6, all of Baldwin, couldn't agree more.
"It's fun," said Echo, adding that she wouldn't mind trying her hand at driving in a demolition derby sometime. "I like seeing the crashes."
Bram, however, had one problem with the derby.
"I don't like the noise," he said, as he adjusted a pair of headphones he brought for the occasion.
More than 60 cars and their drivers competed in this year's derby at the Douglas County 4-H Fairgrounds rodeo arena, hoping to walk away with the $1,000 grand prize.
Kyle Guenther took first place in the feature division with Loren Stone in second; Gary Christian in third; and Les Foster in fourth.
The compact division winner was Chuck Wood, followed by Richard Neis in second and John Davis in third.
Consolation heat winners were Cory Flint and Les Foster.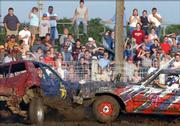 Wood, of Eudora, who has been crashing cars in derbies since he was 16, sat with his 1974 Ford Maverick before the event.
"It's a lot of fun to go out there and take out your aggression," Wood said.
Jason Stieben, 26, Lawrence, has been driving in demolition derbies for about three years because he "likes hitting something hard."
Stieben had another reason, however. "I just like putting on a show."
If either Stieben or Wood have a specific driving plan for winning a derby, they keep it to themselves.
"You just need to be calm," Wood said. "Just go out there and enjoy yourself."
Added Stieben: "It's just a matter of survival."
Stieben said he had yet to be seriously injured in a derby.
"I cut my elbow a couple of times," he said. "I'm always pretty sore the next day."
Charles Ridinger, Lawrence, drove in demolition derbies for 16 years before calling it quits two years ago.
"I got tired of it, and it was too expensive anymore," Ridinger said as he sat with his fiancee, Kim Skinner, also of Lawrence.
The fair continues today, with the highlight being a concert featuring Dixie Road and Asleep at the Wheel. At 5 p.m. gates to the rodeo arena open for the Colgate Country Showdown at 6 p.m., which precedes the concerts.
Copyright 2018 The Lawrence Journal-World. All rights reserved. This material may not be published, broadcast, rewritten or redistributed. We strive to uphold our values for every story published.