Linda Havenor's house is the one with a diaper -- a clean one -- taped to the front door.
That's how Havenor, 34 and a mother of five young children, lets first-time visitors know they found the right home in an unfamiliar Lawrence neighborhood.
It's a helpful clue she likes to provide, because she's terrible at giving coherent directions to her house -- or anywhere -- a fact she freely admits to.
When Havenor tries to describe, over the telephone, where her dwelling is located, she gets a kick out relaying the names of nearby streets.
"Bonanza, Maverick, Rawhide -- it's such a Kansas address," she says, laughing.
Linda Havenor has kind of a cracked perspective on life. Which is a good thing, because it's what she draws upon to craft the skewed, comic monologues she shares with audiences at night clubs and church gatherings.
Havenor bills herself as a Christian humorist, and Lawrence is about to get a taste of her unusual brand of squeaky-clean, observational stand-up comedy.
On Aug. 15, she'll present "Got Hope?" -- a play on the ubiquitous "Got Milk?" slogan -- offering her take on the reality of Christian homeschooling.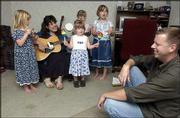 The event, which will be at Mustard Seed Christian Fellowship, 700 Wakarusa Drive, is supposed to be a "mom's night out" for frazzled mothers who, like Havenor, homeschool their children.
Seems like pretty tame turf for a comedian, but Havenor is often wickedly funny when riffing on the day-to-day rigors of serving as both parent and pedagogue.
Along the way, she takes listeners on an iconoclastic tour of Christian convention, asserting that there's no reason why the faithful can't be funny, too.
"My dad is hilarious, and my mom is inept like me. So everybody laughs in my family. We're very loud. We didn't get this quiet, meek Christian thing, so I was in trouble," she says.
Needed to make people laugh
Havenor's got some comedy chops.
She's won amateur open-mic nights in 1999 and 2001 at Stanford and Sons Restaurant and Comedy Club in Kansas City's Westport district and Stanford Glazer's Comedy Club in Overland Park. She also spent three months as a player in ComedySportz-Kansas City (now called ComedyCity) in 1998, participating in fast-paced improv shows based upon suggestions from the audience.
"I did comedy in college at Michigan State University. There was a group of drama people who put together a talent show, and I talked about what we had to do in nursing school," Havenor says.
Christian comedian Linda Havenor of Lawrence will present "Got Hope?" -- a night out for frazzled homeschool moms -- at 7:30 p.m. Aug. 15 at Mustard Seed Christian Fellowship, 700 Wakarusa Drive.Havenor, a member of Calvary Community Church who homeschools her five young children, will share anecdotes about the challenges of being both mom and teacherThe event is free and open to mothers who are homeschoolers in the community.To learn more, contact Havenor at 841-8299 or e-mail her at WarLinHave@aol.com.
"We had to practice on an orange (to learn to give injections), and then you'd move on to someone's butt. And I was like, 'I'm not prepared for this -- it's not citrusy."
What sparked her to take the next step was when Havenor and her husband, Warren, who've been married nine years, first moved to the Kansas City area from Wichita in June 1997.
"We moved into a terrible apartment. We had no car, no air conditioning, no phone, no friends. Roaches all over the floor, it was flooded, you could hear the guy upstairs snoring. It was 88 degrees in our apartment, and I had a new baby. I had to get out of the house," she says.
Then Havenor heard that Blue Ridge Bible Church in Raytown was having a talent night. That was in July 1997.
"I called and asked if I could be in the show. I just felt a need to get up on stage and make people laugh. I was depressed, and I wanted a night out to share my grief with people I didn't know," she says.
"I got up and I told them, 'I'm not joining this church if you don't laugh.'"
They did. And audiences, mostly at church-related events, have kept laughing ever since.
"It's not like you set out to be a comedian. What happens is you see other people doing it, and you say to yourself, 'I can do better than that,'" she says.
Monologues drawn from life
Havenor's put together a pretty good shtick on homeschooling -- the myths versus the reality of it.
"I re-enact a typical homeschool day. There's some physical comedy involved in it. My number feeds off the audience -- I don't just do 'here's my gag,'" she says.
It's a myth, according to Havenor, that homeschool moms are all prim women in jumpers who keep an immaculate house and have fresh-baked bread ready for their impeccably behaved children in the morning.
"Let me tell you, I broke every mold there is. You don't have to do these things to be a homeschooler. I don't get excited over the smell of fresh paper. I don't wear my hair in a bun," she says.
"I didn't know the secular classics (of literature), and I didn't know the classics in the Christian world. (Homeschool parents) would mention C.S. Lewis, and I'm like, 'Who's he?' People wouldn't tell me I was an idiot, but it was indicated."
Havenor's comedy isn't performed in tight sets, but rather free-flowing monologues.
"I really don't practice my routines. I just get up and tell stories from my life," she says. "I can't take myself seriously. Every day is another adventure for me."
Copyright 2018 The Lawrence Journal-World. All rights reserved. This material may not be published, broadcast, rewritten or redistributed. We strive to uphold our values for every story published.