Mclouth — Both steam and gasoline will be used to power events this weekend at the 46th annual McLouth Threshing Bee.
Gary Royer, president of the Heart of America Antique Steam Engine and Model Assn., said the event helped people see how humans completed everyday activities before modern fuels were used.
"We put on an exhibition of history for people who don't know how things used to be done," he said.
This year, the show also highlights some of the latest in modern engines at the hot rod tractor pull at 7 p.m. Saturday. The new event features souped-up tractors with hot rod engines.
Younger drivers will also show their stuff at 10 a.m. Saturday for a pedal tractor pull. Children ages 3 to 12 are eligible for the contest, and all drivers receive prizes.
Royer said the association added the new show to attract more people to the event.
"It provides something for everybody and brings in all ages," he said. "Anybody can come out and just meander for a little while."
Keeping in touch with historical themes, an antique tractor pull is scheduled for 7 p.m. today. A patio dance and country music concert by Arnie Johnson will follow from 8 p.m. to midnight.
Sunday's events include a mini hot rod show at 2:30 p.m. and a draft horse pull at 5 p.m. Admission is $6 and includes all three days.
Attendees on all days can see antique gasoline engine, tractor, car, truck and miniature steam engine displays. Steam engines will be put to work at steam threshing demonstrations at 10 a.m. and 2 p.m. and at the Parade of Power at 1:30 p.m. daily. Straw baling and log sawing demonstrations plus a flea market, craft show and various food vendors will also be available each day.
Royer emphasized the show was designed for people of all ages and said children would be kept entertained with carnival rides, pony rides, a water balloon fight and a petting zoo.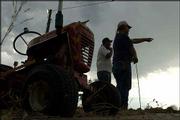 Copyright 2018 The Lawrence Journal-World. All rights reserved. This material may not be published, broadcast, rewritten or redistributed. We strive to uphold our values for every story published.