Des Moines, Iowa — Iowa State's basketball players went to the university's president and athletic director Tuesday, urging them to keep embattled coach Larry Eustachy.
They also said Eustachy apologized by telephone for any embarrassment he had caused them from the publication of photographs that show him partying with college students in Missouri and kissing young women.
"I'm behind coach Eustachy 100 percent, as I know he would be for each and every one of us," forward Jackson Vroman said.
The photographs, printed in the Des Moines Register Monday, have touched off a national buzz and prompted calls for Eustachy's dismissal or resignation.
Eustachy's behavior was a hot topic on radio talk shows, both local and national. The Register said in an editorial that Eustachy "has to go." The father of Iowa State player Jake Sullivan agreed, but an ISU booster said Eustachy had indicated a willingness to change his behavior and should be given that chance.
Iowa State officials are considering disciplinary action against Eustachy, who is under contract through the 2010-11 season and is paid more than $1 million a year, but nothing has been decided.
Vroman said the players told university President Gregory Geoffroy and athletic director Bruce Van De Velde that they supported Eustachy and wanted him to be their coach.
"Bruce Van De Velde told us he would do what is best for the university and the basketball program," said Vroman, who will be a senior next season. "We want them to do what's best for the basketball team, and that's to keep coach Eustachy."
Vroman and center Jared Homan, who will be a junior, said they would seriously consider leaving if Eustachy was not the coach.
"Basically, he's treated me like a son," said Homan, who was charged with public intoxication last month. "He always looked out for me and has been there when I needed him. I feel this time I need to be there for him."
Vroman said he thought the photos made Eustachy "look bad," but added, "I don't think it portrayed him as who he is at all."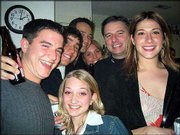 Eustachy, 47, is holding a can of beer in the photos, taken at an apartment party in Columbia, Mo., in the early morning hours of Jan. 22, after Iowa State lost to Missouri, 64-59. In some photos, Eustachy is kissing young women on the cheek or is being kissed on the cheek.
"A lot of them look like they were staged," Homan said. "He's drinking, but he's 47 and has that right. As far as being kissed on the cheek, I don't know if you've seen 'The Price is Right' with Bob Barker, but he has that happen all the time."
Bill Sullivan, whose son Jake was the Cyclones' leading scorer last season, said Eustachy should resign.
"Coach has always purported himself to be an honorable person," Sullivan said. "If in fact he violated a conduct clause in his contract, an honorable person would step down and save the university from any embarrassment."
Jake Sullivan, who'll be a senior, said the photos were a "terrible" blow to the school's image. But Sullivan said he would support Eustachy if the coach changed his drinking habits.
"My dad has his opinions, and he says what he wants to say," Jake Sullivan said. "My thing is, I'm willing to forgive as long as the person is willing to change and dedicate himself to what we're trying to do.
"I give every ounce I have to this community and this university and want the same in return from my coach."
Eustachy, who is married and has two children, said Monday that alcohol was a factor in his behavior and he would deal with that. "I hope to be measured by my future conduct," he said.
ISU booster Bob Gitchell, an orthopedic surgeon who has front-row seats at basketball games, said he can't justify what Eustachy did, but said it did not warrant his dismissal.
"Unless it's really, really bad, I don't think a life should be destroyed because of what one percent of your behavior may be," Gitchell said. "I think this is a time when maybe Larry needs saving.
"I've watched him save a lot of kids from the streets, from the gutter. I know personally several kids that would have no chance to be where they are today if it wasn't for his influence. I think that part of him still exists," Gitchell said.
Vroman said he was not sure if Eustachy would be able to keep his job.
"I don't think all of the administration here wants him around as badly as I do and most of the team does," Vroman said.
Copyright 2018 The Associated Press. All rights reserved. This material may not be published, broadcast, rewritten or redistributed. We strive to uphold our values for every story published.