Traffic signals. Median islands. Roundabouts.
Now the city has a new weapon in its fight against speeding cars in neighborhoods: "speed humps."
Lawrence city commissioners on Tuesday approved a policy allowing the use of the new traffic-slowing devices on residential streets and directed that two humps be installed in a West Lawrence neighborhood.
Commissioner Sue Hack said she had seen speed humps in action during a recent trip to North Carolina.
"It's amazing how unobtrusive they are, but they are obtrusive to the car," Hack said. "They're not unattractive, but if you don't slow down, you'll know it. It certainly made traffic going into these neighborhoods much slower."
The humps are bigger than bumps and will be similar to the raised crosswalk between the city's new parking garage and the Lawrence Arts Center in the 900 block of New Hampshire Street. Humps typically will not include a crosswalk, however.
"The one in front of the Lawrence Arts Center I see daily," Mayor David Dunfield said, "and it seems to be doing the job."
Commissioners directed that the humps -- which will cost up to $3,000 apiece and are expected to last up to 20 years -- be installed on Arizona Street, between Sixth and Eighth streets.
Harlan Roedel, who lives in that neighborhood, said speeding drivers used the street as a shortcut to avoid nearby Sixth Street and Kasold Drive. He will welcome the speed humps as a means of deterring and slowing the traffic.
"We have a lot of children on the block," he said. "We feel confident the speed humps will do a good job."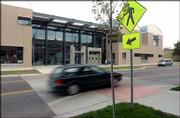 Public Works Director Chuck Soules said police and fire officials were "still skeptical (about the humps), but they're willing to give it a try."
For larger "collector" neighborhood streets -- like Harvard Road -- the city would build "speed cushions" to accommodate emergency vehicles. The cushions would be similar to bumps but with grooves to allow the easy passage of fire trucks and ambulances.
"They'll be able to go through the hump instead of over the hump," Traffic Engineer David Woosley said.
Regular cars still would be forced to slow down at the cushions.
"The car may be able to get one tire in a (groove), but the other would still go over the hump, so it would still slow the traffic," Woosley said.
Commissioners said they might be interested in using humps instead of roundabouts planned for Harvard Road and to replace the raised medians on Louisiana Street in front of Lawrence High School.
"I think speed humps are much more functional for bicycles (on the road) than the median islands we have on Louisiana," Commissioner Dennis "Boog" Highberger said.
The humps should be in place on Arizona Street by fall, Soules said.
Copyright 2018 The Lawrence Journal-World. All rights reserved. This material may not be published, broadcast, rewritten or redistributed. We strive to uphold our values for every story published.