Chicago — Almost three months after a dirty, bedraggled boy showed up at a suburban hospital, authorities say he may be a child who disappeared in North Carolina more than two years ago.
Relatives of Tristen "Buddy" Myers are optimistic that authorities have found the boy, who was 4 when they last saw him in October 2000.
"It sure looks like him," the boy's great-aunt, Donna Myers, said Tuesday. "The picture they sent up from Chicago matched up with Tristen's and everything looked alike."
It is expected to take four to six weeks for DNA tests to confirm whether a boy who says his name is Eli Quick is actually Tristen, who would be 6 now.
"I think it's him," Tristen's mother, Raven Myers, told WTVD-TV in Durham, N.C. "Just looking at the facial features; they say he's got a lisp, I've got a lisp. It's just weird."
A man who identified himself as Ricky Quick brought the boy into an Evanston hospital Feb. 3, saying he "wanted the boy evaluated for aggressive behavior," said Jill Manuel, spokeswoman for the Illinois Department of Children and Family Services.
The hospital notified the child welfare agency because the boy was filthy and had not changed clothes in several days, Manuel said. Hospital officials called police when the man tried to leave with the boy, and the man was arrested on a warrant for theft in Chicago.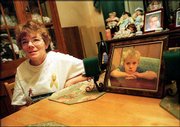 Chicago police took the man into custody and later released him. But Ricky Quick never showed up to get the boy and never called about him, which left DCFS worker Sharon Moriarity with the job of tracking down the boy's family.
Moriarity contacted the National Center for Missing and Exploited Children and found that the boy "almost exactly" matched the center's age progression image of Tristen.
Tristen disappeared Oct. 5, 2000, when he walked out of Donna Myers' Roseboro, N.C., home to play with his two dogs.
Donna Myers was taking care of the boy at the time. She said Raven Myers was forced to give up custody of Tristen to her parents because she was only 15 when she had him, but her mother later became ill and was unable to care for the boy.
Copyright 2018 The Associated Press. All rights reserved. This material may not be published, broadcast, rewritten or redistributed. We strive to uphold our values for every story published.