New York — Roger Clemens didn't get closer to 300 wins, and Ichiro Suzuki and Hideki Matsui did little to garner headlines other than show up.
Amid all the big names converging at Yankee Stadium Tuesday night, Gil Meche pitched the game of his life and overshadowed the long-awaited matchup of Japanese baseball's biggest stars.
Meche took a three-hitter into the eighth inning, helping deny Clemens his 298th win as the Seattle Mariners beat the New York Yankees, 6-0.
"This is probably the biggest night of my baseball career, here, beating a Hall of Famer," Meche said.
Bret Boone, Ben Davis and Edgar Martinez homered for Seattle, which has won 12 of its last 13 regular-season games at Yankee Stadium.
Japanese fans were evident in the crowd of 38,724, and T-shirts with pictures of the two stars were on sale in the stands for $22.50.
"Usually before an away game, visiting players don't get cheered," Suzuki said through a translator. "This time, I felt a little strange, awkward, because I felt cheering from the fans."
Suzuki, who in 2001 became the first Japanese non-pitcher to earn a regular job in the major leagues, was 1-for-5 with a bunt single and scored in the seventh inning.
Matsui, who joined the Yankees this season, was 1-for-4 with a ninth-inning single off Japanese reliever Shigetoshi Hasegawa. Matsui said the pregame hype wasn't a factor.
"It really didn't influence me or anything like that," he said.
Matsui and Suzuki spoke briefly -- "Just greet each other," according to Matsui.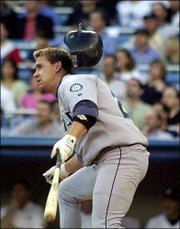 Hasegawa didn't want to talk about it, at all. After the game there were signs in his locker saying: "Leave me alone," and "I will not talk about Matsui."
In the first meeting of the season between the division leaders, New York (20-6) lost consecutive games for the first time this season and was shut out for the first time since a 8-0 loss against Oakland last Aug. 10.
Rangers 16, Blue Jays 11
Toronto -- Juan Gonzalez and Carl Everett each homered twice to lead Texas past Toronto. A crowd of 48,097, the largest since opening day, turned out at SkyDome after the Blue Jays offered $1 tickets in an effort to show Toronto remains vibrant despite SARS.
Alex Rodriguez and Todd Greene also homered for the Rangers, who have won a franchise-record nine straight against the Blue Jays.
Gonzalez hit a two-run homer in the first inning off starter Mark Hendrickson (1-4), and his three-run shot off Jeff Tam in the sixth gave Texas a 12-4 lead. Gonzalez has eight homers this season and has 45 career multihomer games.
Everett has nine home runs this year and 15 multihomer games. Gonzalez drove in a season-high five runs and Everett knocked in four.
Athletics 3, White Sox 2
Chicago -- Chris Singleton had a pair of RBIs against his old team, and Barry Zito outpitched Bartolo Colon as Oakland beat Chicago. Singleton, who spent three seasons with the White Sox before being traded to Baltimore in January 2002, drove in the go-ahead run with a single in the seventh. He finished 2-for-4 as the A's won their fifth straight. Eric Byrnes went 3-for-3 with an intentional walk, tying his career high for hits.
But this game was a pitchers duel, a matchup of two of the AL's best. Zito won the AL Cy Young award last year after going 23-5 with a 2.75. Colon was a 20-game winner, and probably would have been in contention for the Cy Young if he hadn't split his season between Cleveland and Montreal. Zito (4-2) allowed two runs -- only one earned -- and four hits in seven innings
Angels 10, Indians 1
Cleveland -- Ramon Ortiz pitched a seven-hitter, and Garret Anderson drove in three runs to lead Anaheim past Cleveland, which have lost seven straight games. Ortiz (4-2) gave Anaheim a rare strong start and its first complete game of 2003 as the Angels improved to 8-2 in their last 10 at Jacobs Field.
The Jake has been good to the Angels. Last year, Anaheim swept four games during an early season stopover in Cleveland that helped the Angels overcome a slow start and eventually win their first World Series.
Anderson hit a two-run homer off Ricardo Rodriguez (2-2) and Jeff DaVanon added three RBIs.
Orioles 11, Tigers 3
Detroit -- Jason Johnson pitched five scoreless innings, and Jerry Hairston had three runs and two RBIs to lead Baltimore past Detroit. Detroit dropped to 3-21, while Baltimore moved back over .500 at 13-12. Johnson (4-0) allowed four hits and a walk, striking out two. He didn't win his fourth game last year until Aug. 15.
Rookie Jeremy Bonderman (1-4) allowed five runs -- four earned -- nine hits and two walks in 52¼3 innings. Bonderman threw a career-high 118 pitches, 53 in the first two innings.
Twins 5, Devil Rays 3
Minneapolis -- Corey Koskie homered and drove in three runs, and Kenny Rogers pitched seven strong innings as Minnesota defeated Tampa Bay. Torii Hunter also homered for the Twins, who had scored just 20 runs in their last eight games, seven of them losses.
Rogers (3-1) allowed only one earned run in seven-plus innings, yielding eight hits. He struck out four and ran his career record in Minnesota to 7-3 with a 2.94 ERA.
Rogers is 2-0 with a 2.37 ERA in three starts at the Metrodome this season, his first as a member of the Twins.
Copyright 2017 The Associated Press. All rights reserved. This material may not be published, broadcast, rewritten or redistributed. We strive to uphold our values for every story published.