Chicago — After just two meetings this season and with 17 left, one thing is already clear: The Minnesota Twins and Chicago White Sox are not fond of one another.
Magglio Ordonez homered twice and the White Sox beat Minnesota, 7-4, Saturday night in a heated game that saw three players ejected.
"I don't know if it's over or not," Ordonez said. "When you're playing baseball, anything can happen. You never know."
The benches emptied in the sixth inning after Chicago starter Jon Garland was tossed for hitting Minnesota's Doug Mientkiewicz with a pitch -- one inning after Ordonez was plunked for the second straight night.
In two games, six batters have been hit by pitches, three on each side. But Garland became the first pitcher to be thrown out when plate umpire Bruce Froemming immediately ejected him after hitting Mientkiewicz.
"I was upset. I didn't see any real reason for me to get tossed. I missed my location," Garland said. "It seems like he had it in his mind to toss me. It's his decision. I'm not an umpire."
Minnesota reliever LaTroy Hawkins, who was not in the game, and Chicago center fielder Armando Rios were also tossed, according to White Sox manager Jerry Manuel.
Manuel said they were involved in a heated verbal exchange after the benches emptied.
"Magglio has been hit a couple of times and Doug got hit and things escalated," Twins catcher A.J. Pierzynski said. "You have to stand up for your teammates. It wasn't like guys were out there throwing haymakers."
Twins manager Ron Gardenhire described the small skirmish as normal.
"It was a bunch of guys chirping, a bunch of guys acting tough, not doing anything but walking around. ... It's part of the game," he said.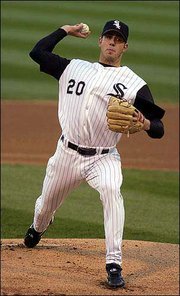 Pierzynski, Corey Koskie and pinch-hitter Michael Cuddyer homered for the Twins.
Garland (1-2), pitching to keep his spot in the rotation after three shaky outings in his first four starts, hit Mientkiewicz two batters after Koskie homered.
Froemming told both managers before the series that he wouldn't tolerate anything but baseball. He reiterated his point at the plate before Saturday's game.
In his opinion, Twins starter Kyle Lohse did not hit Ordonez intentionally in the fourth because, for one thing, it loaded the bases. But Garland hitting Mientkiewicz was different.
"With two outs and nobody on base, Garland stuck this guy and that's the sixth batter who has been hit in two days. He's a better pitcher than that," Froemming said.
"I felt it was the perfect time to stop it. There is a lot of bad blood between these two teams. We will go on the field tomorrow with the same alert. We will take action as it occurs."
Frank Thomas and Carlos Lee also homered for Chicago.
Angels 3, Red Sox 1
Anaheim, Calif. -- Scot Shields, coming out of the bullpen to make his second major-league start, pitched shutout ball for the first five innings and David Eckstein hit a two-run single as Anaheim beat Boston.
Pitching in place of injured Kevin Appier, Shields (1-0) was charged with a run and five hits in 61¼3 innings, striking out five and walking none. The right-hander's other start was last Sept. 27 against Seattle, when he allowed two runs and four hits in three innings.
Tigers 6, Mariners 4
Seattle -- Shane Halter homered and scored three times as Detroit won for only the third time in 22 games this season, beating Seattle to end the Mariners' five-game winning streak. The Tigers tied season highs with six runs and 11 hits. Detroit has scored only 49 runs this year (2.2 per game), by far the fewest in the majors.
Athletics 6, Indians 3
Oakland, Calif. -- John Halama held Cleveland hitless until the seventh inning and Erubiel Durazo hit a tiebreaking sacrifice fly to lead Oakland. Brandon Phillips singled with one out in the seventh for the Indians' first hit. Halama carried a no-hit bid deeper than any major-league pitcher has yet this season.
Halama, however, did not get the decision. He was gone by the time the A's scored the go-ahead in the seventh off Terry Mulholland (0-1).
Scott Hatteberg singled and went to third when catcher Tim Laker threw the ball away at second on Miguel Tejada's tapper. Reliever Carl Sadler struck out Eric Chavez, then gave up Durazo's sacrifice fly.
Devil Rays 10, Orioles 7
St. Petersburg, Fla. -- Aubrey Huff homered, doubled and had four hits as Tampa Bay overcame a five-run deficit to beat Baltimore. Rocco Baldelli, Rey Ordonez and Marlon Anderson all had two RBIs for the Devil Rays, who have come back to win after trailing by at least three runs six times this season -- all at home.
Ordonez and Anderson are tied for the team lead with 18 RBIs.
Yankees 7, Rangers 5 (10)
Arlington, Texas -- Alfonso Soriano homered and doubled in the go-ahead run with two outs in the 10th inning, helping New York become the first team to reach 20 wins by beating Texas.
Jason Giambi also homered for the Yankees (20-4), who won for the ninth time in 10 games and beat former manager Buck Showalter for the second straight night.
Rafael Palmeiro, Alex Rodriguez and Ruben Sierra homered for Texas. Palmeiro's home run was the 497th of his career.
Soriano extended his hitting streak to a career-high 14 games. He hit his AL-leading ninth homer in the second inning, a two-run shot.
Copyright 2018 The Associated Press. All rights reserved. This material may not be published, broadcast, rewritten or redistributed. We strive to uphold our values for every story published.