AUBURN HILLS, MICH. — A true team can beat a sensational superstar.
Tracy McGrady scored 46 points, but five Detroit Pistons scored in double figures as they beat the Orlando Magic 89-77 Wednesday in Game 2 to even their first-round playoff series.
"I can't win it by myself," McGrady said. "I'm pretty sure they should understand that, but I give Detroit credit for really shutting those guys down."
McGrady's teammates, led by Andrew DeClercq's nine points, combined for just 31 points.
Richard Hamilton had 30 points one game after scoring 28 in his playoff debut. Detroit's Chauncey Billups had 15, Corliss Williamson added 13 and Cliff Robinson scored 10.
"Everybody helps everybody out and everybody knows their place," Hamilton said.
Ben Wallace validated the NBA Defensive Player of the Year award he won earlier in the day -- for the second straight year. Wallace made two come-from-behind blocks in the first several minutes, and finished with 16 rebounds, three steals, three blocks and 10 points.
"I thought I was going to have to lead the way, but the guys were already ready," Wallace said. "We just played with a lot of energy."
McGrady, the NBA's leading scorer, broke the Magic playoff scoring record he set Sunday with 43 points. His 46-point performance also tied The Palace scoring record in any game shared by Shaquille O'Neal, Jerry Stackhouse and Grant Hill.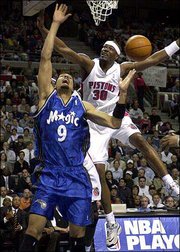 McGrady made 16 of 26 shots and 10 of 11 free throws.
"I thought we made McGrady work for his shots, but he's playing at an amazing level," Detroit coach Rick Carlisle said. "He's doing things that most of us have never seen before."
Game 3 is Friday in Orlando.
Detroit, which never trailed, led by 22 early in the second quarter and maintained a double-digit lead for the final 9:25.
Wallace's dunk and Billups' three-pointer gave Detroit an 85-70 lead with 4:23 left, then McGrady answered with a long jumper and a three-pointer in less than a minute. But the Magic could not get closer.
Pistons rookie Tayshaun Prince, who didn't even play in Game 1, helped slow down McGrady for a short time. Prince replaced Michael Curry with 4:45 left in the third quarter and McGrady missed his first four field goals against Prince as Detroit pulled away.
"Maybe now we have to call Tayshaun Prince the T-Mac stopper," Orlando coach Doc Rivers said. "But the bottom line is, we've got to get other guys involved."
Copyright 2018 The Associated Press. All rights reserved. This material may not be published, broadcast, rewritten or redistributed. We strive to uphold our values for every story published.