MODESTO, CALIF. — Scott Peterson was carrying $10,000 when detectives arrested him about 30 miles from the Mexico border on suspicion of killing his pregnant wife, a law enforcement official said Sunday.
Hours later, authorities would announce that DNA tests showed two bodies found on the shore near San Francisco were his wife, Laci, missing since Dec. 23, and their unborn son.
Peterson had repeatedly denied any role in his wife's disappearance, and police had avoided labeling him a suspect. But authorities say he knew he was being tracked.
Modesto Police Chief Roy Wasden sought the arrest warrant for Peterson a day before the bodies were identified because he feared Peterson might flee to Mexico, where law forbids extradition of anyone facing the death penalty. Prosecutors in Stanislaus County plan to charge Peterson, 30, with capital murder for the deaths of his 27-year-old wife and their unborn son.
Peterson is expected to be arraigned this afternoon, authorities said.
Kelly Huston, a spokesman for the Stanislaus County sheriff's department, said Peterson talked to his lawyer Saturday night. The attorney, Kirk McAllister, has not commented on the case since the arrest.
Peterson was segregated from other inmates and placed in the jail's maximum security section because of the nature of the charges he faces, and because prisoners have made threats against him, Huston said.
The inmates "definitely have some unfavorable opinions of him," he said.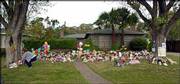 In an interview with Time magazine, Peterson's father, Lee, said "police have just bungled this investigation from day one."
"You have a district attorney calling this a slam-dunk before there's even an arraignment," Scott Peterson's mother, Jackie, told the magazine. "I'm feeling like I'm living in Nazi Germany or the Soviet Union."
"We're grieving for the baby, as Scott is for Laci," Lee Peterson said.
When detectives arrested him Friday, Scott Peterson's dark hair had been dyed reddish-blond, and he had grown a goatee. A law enforcement official who spoke on condition of anonymity said Sunday that he also had $10,000 with him.
From the start, police had focused attention on Peterson, who acknowledged that he had an affair with another woman last year but said his wife, due to give birth in February, knew about it.
Copyright 2018 The Associated Press. All rights reserved. This material may not be published, broadcast, rewritten or redistributed. We strive to uphold our values for every story published.