Minneapolis — Joe Torre's day ended better than it started.
Torre became the fifth New York Yankees manager to win 700 games as his team beat the Minnesota, 8-2, Sunday for its 12th straight win over the Twins.
Torre, hired by team owner George Steinbrenner after the 1995 season, joins a list that includes Joe McCarthy (1,460), Casey Stengel (1,149), Miller Huggins (1,067) and Ralph Houk (944).
"Here I am having the greatest time of my life," Torre said after the game.
A few hours earlier, he didn't sound happy after he learned Steinbrenner overrode his decision to send pitcher Jose Contreras to Triple-A Columbus and instead ordered the struggling right-hander to report to the Yankees' minor league complex in Tampa, Fla.
"My problem yesterday is that I sat in my room with this young man, told him where he was going," a puzzled Torre said before the game. "Turns out, I'm the liar there. That, I'm not crazy about."
But Torre felt better after watching his team dominate Minnesota, which has lost three straight and closes out its four-game homestand against the Yankees today.
Mike Mussina, who improved to 20-2 against the Twins, pitched seven strong innings, and Jason Giambi and Bernie Williams each homered to lead the Yankees, whose 15-3 start is the best in team history.
Asked if the game helped take his mind off the Contreras issue, Torre nodded and said: "The game is always a priority."
Mussina (4-0) allowed five hits while the Yankees got a three-run homer in the first inning from Giambi and a solo shot in the third from Williams. Giambi's homer was his first since the opening week of the season.
"That was huge for him," Torre said. "He's been pretty dry, and I know it's been bothering him. I know it was important for him."
Red Sox 6, Blue Jays 5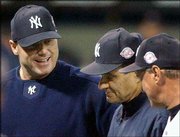 Boston -- Nomar Garciaparra hit a tying double in the seventh off Roy Halladay and a winning homer in the ninth against Cliff Politte (0-2) as Boston rallied from a 5-0 deficit for its seventh straight victory. Toronto has lost 10 of 11.
Mike Timlin (3-0) pitched two scoreless innings.
Orioles 4, Devil Rays 1
Baltimore -- Melvin Mora homered and Omar Daal (1-1) allowed one run and five hits over seven innings, retiring 16 of his final 17 batters. He had been winless in eight starts since defeating Houston last Aug. 31, 2002.
It was the first victory for a Baltimore left-handed starter since Chuck McElroy defeated Minnesota on April 28, 2001. Jorge Julio pitched a perfect ninth for his fifth save as Baltimore won for the fourth time in five games.
Bench coach Sam Perlozzo managed the Orioles in place of Mike Hargrove, who left the team to be with his ailing mother in Perryton, Texas. Nick Bierbrodt (0-2) allowed four runs and five hits in 11¼3 innings for Tampa Bay, which has lost five of six.
Indians 7, White Sox 4
Chicago -- Ellis Burks, Shane Spencer and Karim Garcia homered as Cleveland stopped its four-game losing streak and Chicago's four-game winning streak. Jason Davis (2-2) allowed three runs and seven hits in 62¼3 innings. D'Angelo Jimenez and Carlos Lee homered for the Sox. Lee has homered in four consecutive games. Chicago starter Mark Buehrle (2-2) gave up seven runs in 41¼3 innings and allowed 11 hits, matching his career high.
Mariners 7, Angels 6
Anaheim, Calif. -- John Olerud's second RBI single broke a ninth-inning tie against Troy Percival (0-1). Olerud continued to second on outfielder Julio Ramirez's wild throw to the plate. He tagged up on Mike Cameron's fly to right and scored when Eric Owens' throw bounced into the stands. Shigetoshi Hasegawa (1-0) retired Chone Figgins on a flyball with the bases loaded, ending the eighth. Kazuhiro Sasaki finished for his fourth save, allowing an RBI single by Scott Spiezio, then striking out Brad Fullmer.
Rangers 2, Athletics 1
Oakland, Calif. -- Carl Everett homered to right field, not far from where a fan threw a cell phone that hit him in the head a day earlier, and Texas defeated Oakland. Everett has homered in the last five games in which he batted, setting a club record. The Rangers ended a four-game road losing streak as they wrapped up a 19-game stretch to start the year against the tough AL West.
Copyright 2018 The Associated Press. All rights reserved. This material may not be published, broadcast, rewritten or redistributed. We strive to uphold our values for every story published.