In the self-proclaimed education capital of Kansas, there's a concern among some Douglas County businesses about the quality of education their employees have received.
But the concern doesn't have anything to do with what Kansas University or the county's public school districts are teaching. Instead it stems from what they're not teaching -- blue-collar, vocational education skills.
Now, business leaders and officials in the Eudora school district are teaming to tackle the problem.
Marty Kobza, superintendent of the Eudora school district, recently confirmed the district would open a vocational-technical school this fall in part of the former Eudora Junior High School building.
Lawrence has some schools that offer business training, but the Eudora facility would be the county's only traditional vo-tech school, and Kobza said it appeared to be badly needed.
"The last numbers I saw showed that 87 percent of the general (U.S.) population didn't have a bachelor's degree," Kobza said. "If we focus on only college-bound students, we're really missing out on the majority of our students. This school won't be about lowering our expectations. It's about us trying to meet the needs of our students."
Lynn Parman, vice president of economic development for the Lawrence Chamber of Commerce, said the vo-tech school would help meet the needs of area businesses.
She said preliminary results from a survey she conducted with major employers showed that many businesses were struggling with recruitment. She said 80 percent of the companies surveyed thus far reported recruitment problems. Many had problems filling positions that involve blue-collar skills, ranging from maintenance to equipment operation, she said.
"That's a pretty significant number," Parman said. "I've also heard, anecdotally, there are several companies planning expansions but are concerned about doing them here because of work force issues."
Kobza's optimistic the new school will help area employers, along with companies who may be looking to move to Douglas County.
"Anytime you can provide your community a prepared work force, the more likely it becomes that industry will succeed in this area," Kobza said. "I see it as a real incentive for businesses to come into the area.
"It doesn't mean we're going to become a cookie-cutter factory that turns out workers for factories, but we do want to know what businesses' needs are and try to meet them. That seems to be good for everybody."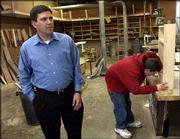 Eudora's plan
The school district has signed a deal with Mill Creek Center, an Olathe-based vo-tech school formerly known as Johnson County Technical School.
The Olathe school will provide the teachers and services needed to run the vo-tech program. The Eudora district will lease to the Olathe school about 12,000 square feet at the district's junior high school. Eudora will pay the Olathe district about $5,000 in tuition for each Eudora High School student that attends the school.
Eudora currently buses students to the Olathe facility. But Kobza said the Olathe facility couldn't accept every Eudora student who wanted to attend because of space constraints.
He said the new school should save the Eudora district about $25,000 a year in reduced transportation costs. Kobza also thinks more students will be interested in the program once it's in their hometown.
"For our students to think about getting on a bus and riding for an hour a day, that wasn't very appealing to some of them," Kobza said.
The school will offer three separate two-year degree programs, which will consist of half-day classes that meet five days a week during the school year.
The degrees will be in:
l Hospitality services. The degree will prepare students to enter the culinary arts, hotel industry and some hospital jobs.
l Nursing/health services. Students can earn a certified nurse's aid degree and will be able to begin working for hospitals or enter nursing school.
l Auto collision. The degree will teach students the basics of auto body repair work.
Growth plans
The vo-tech school won't be open to all area students. Kobza said the school was set up to accept students from Eudora, DeSoto and the Basehor-Linwood school districts.
As of last week, 49 students had enrolled in the vo-tech programs.
Kobza has bigger plans for the school. He hopes the school will begin accepting students from other districts and attract 250 to 300 students. Eventually, he'd like the school to offer about 10 degree programs.
Kobza said vo-tech officials were looking at adding a building trades degree that would include carpentry, electrical and other construction instruction, and an industrial technology degree that would prepare students to become maintenance workers at manufacturing plants.
Area businesses have urged vo-tech officials to consider an industrial technology program. Don McGlinn, engineering manager for Lawrence's Hallmark Cards plant, said the company for three years brought in an instructor from a Topeka vo-tech school because none existed in Lawrence. More recently, the plant has sent some employees to a Garden City school to receive training.
McGlinn said the new school should be a boost to many area businesses.
"I know for a business to survive you have to have a good labor resource," McGlinn said. "Labor is every business' most important resource. The best way to help a business is to help them improve their labor."
Lawrence reaction
McGlinn hopes the Lawrence school district will consider signing a deal to begin sending students to the Eudora vo-tech school.
"I think it would be real beneficial for Lawrence," McGlinn said. "It seems that the demand for these type of jobs is only going to grow."
Kobza said he had made Lawrence school district officials aware of the new school and would be interested in opening the school to Lawrence students.
"The more students we get, the more efficient it becomes," Kobza said. "That's why we would like to get as many districts as possible to participate."
Julie Boyle, communications director for the Lawrence school district, said the district hadn't decided to become a partner in the school.
"We'll make the opportunity known to our sophomores, and I imagine some will be interested," Boyle said.
Changing attitudes
Lawrence Chamber of Commerce officials said they intended to monitor the new school closely and see how they can help it. Parman said the chamber had committed to use a portion of the $1.2 million it received in its recent private fund-raising drive, Excellence by Design, to fund a new full-time chamber position that will try to coordinate work force development issues in the county.
"We really want that person to be a facilitator to bring together all the educational institutions in the county and talk about work force development," Parman said.
Kobza thinks more students will become interested in vo-tech schools as attitudes change about blue-collar jobs and the people who hold them.
"Our biggest challenge is still probably that vo-tech is just for students who can't make it in college," Kobza said. "That's not it at all. They just want to go a different path. They want to get out there and use their hands, get in the work force right away."
McGlinn agreed. He thinks parents also will become less hesitant to encourage their children to pursue vo-tech careers.
"When our parents were looking at blue-collar workers, they were looking at ditch diggers who dug with shovels instead of how they do it today with $20,000 pieces of equipment," McGlinn said. "It's a different time."
Copyright 2013 The Lawrence Journal-World. All rights reserved. This material may not be published, broadcast, rewritten or redistributed. We strive to uphold our values for every story published.