Douglas County is home to about 200 houses of worship, faith groups, campus ministries and other religious bodies that meet regularly.
A group of 11 Kansas University students plans to visit each one of them -- or at least as many as they're able to.
The purpose?
"I'm hoping simply to preserve a snapshot of organized religion as it exists in Douglas County in the year 2003, to provide as complete a list of (faith) organizations as possible," says Tim Miller, professor of religious studies at KU. "I feel like we don't have a lot of basic information, and I'm hoping in my modest way to make a contribution to fill in some gaps in the record."
The KU students, who are spending weekends visiting religious services of all types in the county, are on assignment as part of an upper-level course taught by Miller this semester, "Contours of Religion in Douglas County."
His students are attempting to compile a comprehensive list of religious groups in the county, listing such information as their locations and times of worship; the number of participants during services; their range of activities, such as ministries and outreach programs; and their clergy or other leaders.
Miller hopes the class, made up of graduate students and undergraduates, can compile enough data on religion in Douglas County to enable researchers to make comparisons with national data.
He'd like the 2003 census conducted by the students to be on record to provide a benchmark for researchers in 10 to 20 years to help determine religious trends in the country.
Miller intends to make the census available to the public, possibly archiving it at a place such as the Watkins Community Museum of History, 1047 Mass., or with the Kansas State Historical Society.
"It will be there as a resource. Maybe 20 years from now, someone will take it and do a similar project again, and then you can look at long-term trends and see where things are going," he says.
Struck by diversity, integration
The course is something new for Miller, who describes it as an experimental class that will try to provide more solid information about American religion in one small area.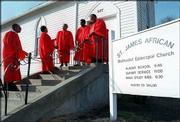 "It's just an idea that I had and am interested in pursuing. I'm still not sure it's going to play out the way I thought it would," he says.
The class meets once a week on Wednesdays, and during that time students work together to determine who will go to which congregation or faith group that week.
Students are trying to visit each religious organization twice to get a clearer picture of how many people typically participate at worship or meetings.
Once there, the students are talking with spiritual leaders or members in order to gather basic facts about the groups, including their contact information and histories.
They're also taking pictures of all their buildings and collecting background materials such as church newsletters.
In addition to the data sheets that students fill out on each congregation, faith group or ministry, they're recording observations and experiences in personal journals.
By the time students are done with their field work, they will have each likely made 30 to 40 visits to worship services or meetings of religious groups in the county.
Due to the scheduling conflicts created when a small group of students is trying to visit so many places, usually on a Sunday, some class members will need to continue their field work into the summer.
Miller would like to have the census material ready to archive in the fall.
The information gathered so far is already yielding an interesting, albeit still emerging, view of Douglas County's faith landscape.
"There's quite a lot of diversity. We've got representatives of all the world's religions: Christians, Jews, Hindus, Buddhists, Muslims, pagans -- most of the major ones," he says.
Students are also finding that congregations seem to be more racially integrated than one might expect to find, given that Sunday morning, some have observed, tends to be the most ethnically separate time of the week in America.
Respect for religious freedom
Miller's students say their field work is proving to be a valuable experience.
"I think it's fascinating. It's interesting to get a glimpse of the diverse religious groups, and even though it's just one section of the country, it's interesting to see how many faiths are out there," says Kellie Harmon, who's earning her master's in religious studies.
Harmon has made about 15 visits to area churches so far.
"I've already taken away an appreciation for the fact that people do worship differently, and you should respect the fact that there is religious freedom," she says.
Jessica Proctor, a junior majoring in religious studies, has been struck by the religious diversity in Douglas County, especially within Lawrence.
"Obviously, the university has a great deal to do with that. People move here and want to practice their own faiths. In Baldwin, it's more of the Christian denominations, and in Eudora, as well. But in Lawrence, we have Hindu, Islamic, Buddhist and Wiccan groups, too," she says.
Even students who aren't earning a degree in religious studies are finding the class beneficial. That's been the case for Efugbaike Usibaka Ajayi, a Nigerian-American who's working toward a master's in American studies.
"My interest area is really looking at the experiences of African immigrants to the United States. Religion is not a primary interest of mine, but it influences the life of African immigrants in the United States, so it might be an avenue I would look at eventually," she says.
Miller, meanwhile, thinks the religion census the students are compiling has the potential to be a useful tool. He'd like to see other researchers elsewhere follow their lead.
"As a student of American religion, if someone could do this in each of 50 scattered counties in the United States, I think we'd get a fascinating new handle on religious participation in the whole country," he says.
Copyright 2018 The Lawrence Journal-World. All rights reserved. This material may not be published, broadcast, rewritten or redistributed. We strive to uphold our values for every story published.