Arlington, Texas — Ryan Drese looked as if he was in for another short outing.
Instead, he recovered from a four-run first with six shutout innings and the Texas Rangers rallied past the Anaheim Angels, 9-7, Thursday to take three of four from the World Series champions.
"You saw the reason why the tiebreaker with Ryan in spring training was his competitive fire," Rangers manager Buck Showalter said. "There is no scare, no quit in him. He wasn't going to feel sorry for himself, he was going to try to find a way to get it done."
David Eckstein hit a leadoff home run and Troy Glaus added a two-run shot as the Angels quickly jumped ahead 4-0. But that's all they managed against Drese (1-1).
The Rangers' No. 5 starter, who recorded only one out and allowed six runs in his first outing against Seattle, struck out eight while throwing 137 pitches in seven innings. By the time he left, Texas led 9-4.
"It's a confidence builder, especially after that first inning," Drese said. "I felt good, I felt strong and felt in command."
After Texas tied it with a four-run fourth, Drese found himself in a bases-loaded jam in the fifth. He struck out Benji Gil to end the inning, and the Rangers went ahead to stay in the bottom half.
"He trusted his stuff more. He continued to pound the strike zone and stayed aggressive," Showalter said. "He was frustrated after the first, but he had good stuff. Sometimes they hit it, and you just have to trust it's good and let it play out."
Orioles 6, Indians 4 (12)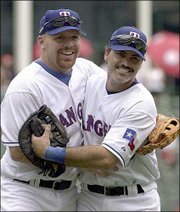 Cleveland -- Jeff Conine hit a two-out, two-run single in the 12th inning to give Baltimore a win against Cleveland. Conine, who homered in the second inning, fouled off four pitches with two strikes before completing a 10-pitch at-bat by lining a single off Carl Sadler to score pinch-runner Jose Morban and Melvin Mora. Willis Roberts (1-1) pitched one inning for the win, and Jorge Julio recorded three outs for his third save. The Orioles won twice in the three-game set and evened the season series at 3-3. The teams won't see each other again until 2004.
Mariners 4, Athletics 3 (10)
Seattle -- Mark McLemore atoned for his game-tying error in the ninth inning with a two-out RBI single in the 10th, giving Seattle a victory against Oakland. Seattle took three of four from the A's, who have lost seven of eight following a 7-1 start.
With two outs in the 10th, Mike Cameron walked and stole second. Jeremy Fikac (0-1) walked Carlos Guillen before McLemore blooped his single to left on a 3-1 pitch to score the speedy Cameron.
Jeff Nelson (2-0) worked a scoreless inning to earn the win.
Twins 6, Tigers 0
Minneapolis -- Bobby Kielty hit two solo home runs and Kenny Rogers pitched eight scoreless innings as Minnesota completed a three-game sweep of Detroit. Torii Hunter went 2-for-3 with two doubles and an RBI and Minnesota, which won its sixth in a row after losing six straight, also received a home run from Corey Koskie. Kielty hit his first homer off starter Jeremy Bonderman in the second inning. His second solo shot came off Matt Anderson in the eighth and made it 5-0.
Yankees 4, Blue Jays 0
New York -- Raul Mondesi and Alfonso Soriano homered to back a sharp outing by Jeff Weaver and help New York defeat Toronto. Mondesi opened the fifth inning with his third home run of the season on a 2-1 pitch from Pete Walker (1-1), and Soriano led off the sixth with his fifth homer on the first pitch. After Soriano connected, three straight walks loaded the bases for Hideki Matsui, who delivered a two-run double off Doug Creek.
Red Sox 6, Devil Rays 0
Boston -- Pedro Martinez allowed just two hits in seven innings as Boston beat Tampa Bay. Kevin Millar and Doug Mirabelli hit solo homers and the Red Sox scored another four runs in the sixth. Several players wore hoods under their caps that left only their eyes and noses exposed to temperatures that dropped from a game-time 33 degrees. The wind was blowing at 15 mph when Martinez threw his first pitch to Carl Crawford.
Copyright 2018 The Associated Press. All rights reserved. This material may not be published, broadcast, rewritten or redistributed. We strive to uphold our values for every story published.