Critics of the Lawrence school board's closure of East Heights and Centennial elementary schools say the move weakens public confidence in the board's willingness to honor the will of voters.
There is belief among consolidation opponents that the board's action ignores a message voters sent April 1 when a $59 million school bond guaranteeing closure of both schools was soundly defeated at the polls.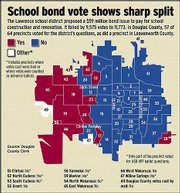 That the schools to be shut down are in working-class neighborhoods further fans resentment over a perceived wedge being driven between haves and have-nots.
"I think the polarization that is present and growing in this community is not what we want," said Nancy Hiebert, a former Douglas County commissioner.
"You need to take that seriously," cautioned Mike Rundle, Lawrence city commissioner.
Pat Kehde, co-owner of The Raven Bookstore in Lawrence, said many voters were convinced when they stepped into the voting booth that "if they voted against the bond, they (board members) would not close schools."
She said those voters were betrayed by the school board's 6-1 decision Monday -- less than two weeks after the bond election -- to close Centennial and East Heights in May.
"Depth of conflict in this community is palpable," Kehde said.
But the six board members who supported the bond and voted for the closures said public condemnation of their decisions was misplaced.
Scott Morgan, school board president, said the real source of the public's frustration was that too few people did their homework before casting votes on the bond. Too few people have taken the time to grasp the necessity of closing schools and making other budget cuts, he said.
"The board did everything we could to tell people this could very well happen anyway," Morgan said. "The fact that people chose not to believe that, I'm sorry."
At campaign forums and school board meetings, board members said consolidation didn't depend on whether the bond passed or failed.
Morgan said antibond organizers spread a "big fallacy" that defeat of the bond would block consolidation.
"They believed their own rhetoric," said Morgan, who was defeated for re-election.
Board member Austin Turney said he was concerned about public reaction to the bond and consolidation debate.
But, he said, postponing a decision until the new board took office in July wouldn't change anything. Even then, there would be a 5-2 majority in favor of consolidation. Consolidation opponent Jack Davidson leaves the board while closure foes Leonard Ortiz and Rich Minder take office.
"Delay will create one more year of acrimony and last-ditch fighting," Turney said.
Under the bond plan, students at Centennial and East Heights would have been moved as a group to Cordley and New York schools after bond-financed expansion projects. Centennial and East Heights would have stayed open at least a year until construction was completed at Cordley and New York.
On Monday, the board agreed to scatter Centennial and East Heights children among a handful of schools. The board voted three months ago to close Riverside School and send those students to Deerfield and Pinckney schools.
Dayna Carleton, who doesn't have children in the district but lives one block from New York School, said the disposition of students from these elementary schools illustrated a lack of awareness about implications of closing neighborhood schools.
She said transportation would be a problem for students forced to walk greater distances to school. It will be equally as difficult for their parents to participate in activities at the new schools, she said.
"It's a class issue," Carleton said. "Many of us are poor. It's not that we don't have four cars. We don't have any cars."
Copyright 2018 The Lawrence Journal-World. All rights reserved. This material may not be published, broadcast, rewritten or redistributed. We strive to uphold our values for every story published.