An Easter brunch wouldn't be complete without eggs, but in these flavor-happy times cooks may be ready to add a little pep to their usual range of eggy offerings.
One way of doing that is to try this easy brunch bake recipe, made with ingredients that include chorizo sausage, cheese, tostadas and cilantro.
The source of this spicy creation is chef Anthony Lamas of Jicama Grill, Louisville, Ky. Lamas is known for Nuevo Latino cuisine that derives directly from his heritage, and he says he thought up the tostada bake for a tapas-style Easter brunch.
Lamas, American-born to a Mexican mother and Puerto Rican father, spent his childhood cooking alongside his grandparents and feasting on what he calls his mother's "wonderful" cooking.
In this recipe, he says, "The melted cheese on top of fried tortillas reminds me of my mom's home cooking and the chorizo and egg gives the dish an unexpected twist."
Avocados and your favorite salsa would be ideal extras to serve with the tostadas.
Cheddar, Chorizo and Egg Tostadas
----
Preparation 15 minutes, cooking time 20 minutes
6 ounces chorizo sausage (see note)
6 eggs, lightly beaten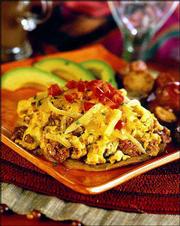 1/2 teaspoon salt
1/2 teaspoon freshly ground pepper
1 tablespoon butter
6 prepared tostada shells (see note)
2 cups (8 ounces) shredded Cheddar cheese
1 medium tomato, diced
1/3 cup chopped fresh cilantro
Heat oven to 375 degrees.
Remove chorizo from casing and cook in large nonstick skillet over medium heat 4 to 5 minutes, breaking up meat with a fork. Remove from skillet and set aside.
Combine eggs, salt, pepper and 1 tablespoon water. In same skillet, heat butter over medium heat.
Add egg mixture and cook until scrambled.
Place tostadas on a large baking sheet. Divide scrambled eggs among tostadas. Spoon chorizo over eggs. Sprinkle with cheese, tomatoes and cilantro. Bake until cheese is melted, about 5 to 8 minutes.
Makes 6 servings.
Note: Chorizo is a Spanish or Mexican pork sausage, available in many supermarkets or Hispanic groceries.
Tostadas, crisp corn tortillas, are readily available in the Hispanic section of most supermarkets. To make your own, heat a small amount of vegetable oil in a skillet until hot. Fry fresh corn tortillas until crisp. Drain on paper towel.
Copyright 2018 The Associated Press. All rights reserved. This material may not be published, broadcast, rewritten or redistributed. We strive to uphold our values for every story published.