Chicago — Damian Miller thinks Kerry Wood and Mark Prior could be spoiling Cubs fans.
Wood struck out 13 in eight impressive innings, leading the Chicago Cubs past the Pittsburgh Pirates, 4-0, Saturday, just three days after Prior struck out 12 in a complete-game shutout. Wood allowed only three hits and allowed just one Pirate past first base.
"I think Cubs fans are going to be awful spoiled with these guys in the long run," said Miller, who homered and drove in two runs. "Their mental makeup is right where it needs to be and their stuff is always going to be there. It's just a matter of those guys being consistent every fifth day."
Wood (2-0) has struck out 26 in 20 innings over three starts this season. He walked four and was pulled after 122 pitches.
"He was throwing breaking stuff for strikes and when he does he's awfully tough," Pirates manager Lloyd McClendon said. "We ran into a guy who's pretty special."
Wood took advantage of the wind blowing in on a chilly spring day.
"Today for me was a great day for me to pitch with the wind howling in, and with days like that you can get away with more mistakes," Wood said.
Marlins 12, Braves 5
Miami -- Derrek Lee drove in five runs with two homers, one of them inside the park, and Florida totaled 15 hits for its fourth consecutive victory.
The last-place Braves have been outscored 72-16 in their eight losses. Atlanta's ERA rose to 6.39, worst in the National League.
Lee, dropped from fourth to sixth in the order this week following a slow start, hit a two-run homer in the fourth.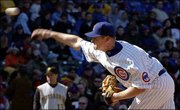 With two on in the seventh, Lee's drive eluded center fielder Andruw Jones near the 434-foot sign. The 6-foot-5 Lee circled the bases and beat the throw home standing up.
Cardinals 3, Astros 0
Houston -- Woody Williams pitched six sharp innings, leading St. Louis past Houston. Jim Edmonds and Edgar Renteria hit RBI singles for the Cardinals, who snapped a three-game losing streak and won for only the second time in seven games. They bounced right back from a tough loss the night before -- when Jeff Kent hit a two-run homer off Matt Morris with two outs in the bottom of the ninth to give Houston a 3-2 win.
St. Louis' victory evened the three-game series between teams that have combined for the last seven NL Central titles.
Expos 5, Mets 4
San Juan, Puerto Rico -- Livan Hernandez dominated early and Michael Barrett homered as the Expos remained unbeaten in their new part-time home. The NL East leaders, despite two errors on the springy artificial turf of Hiram Bithorn Stadium, stretched their winning streak to three, including the first two of their 22 games in San Juan.
After drawing 17,906 for a 10-0 win in Friday's opener, the Expos had a sellout of 18,264 Saturday, again bigger than all but eight crowds last season at Montreal's Olympic Stadium.
Phillies 8, Reds 5
Cincinnati -- Todd Pratt drove in three runs, offsetting solo homers by Austin Kearns and Adam Dunn, as Philadelphia beat Cincinnati. It was the third home run in two games for Kearns, whose two-run shot in the bottom of the ninth inning beat the Phillies on Friday night.
Kevin Millwood (2-0) allowed just one hit until the fourth, when Kearns and Dunn hit consecutive home runs, and Reggie Taylor singled in a run to make it 3-1.
Millwood struck out seven, walked two and allowed four hits in six innings.
Copyright 2018 The Associated Press. All rights reserved. This material may not be published, broadcast, rewritten or redistributed. We strive to uphold our values for every story published.