People with baskets and bags descended Saturday on a wooded area in west Lawrence and rummaged around for fungus.
Warm weather means it's the beginning of morel-hunting season.
"People think we're nutty for looking for mushrooms. I say the same thing about bird watchers, but mushrooms hold still," said Ron Meyers, who publishes the newsletter of the Kaw Valley Mycological Society.
The group's first spring mushroom foray was Saturday morning west of Kansas University's athletic fields near Clinton Parkway and Lawrence Avenue.
And in coming weeks, hunters throughout the region will be picking wild morels to sell to retailers such as Pendleton's Country Market, 1446 E. 1850 Road, which sells them for $25 a pound.
"The first morels that come in will go to people on the waiting list," co-owner Karen Pendleton said. "We've got about 20, 25 people on the list."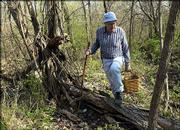 Bob Roseberry, vice president of the local society, never sells his. He soaks them in salty water, dries them on a paper towel, dusts them with flour, then pan-fries them.
"I like them just right out of the skillet," said Roseberry, 73, a retired human-resources manager from FMC Corp. "There's nothing else in the world that tastes like a morel. That's a fact."
Because of the morel's rarity, hunters are notoriously secretive about places where they've hit the jackpot. Meyers and Roseberry found more than 200 morels a few years ago growing near a downed cottonwood tree along the Kansas River west of Burcham Park.
"I would never have told anybody about it that year," said Meyers, 69, a retired lieutenant colonel in the U.S. Air Force. "I didn't find any there last year. I'm getting discouraged with that whole area."
The local mycological society -- a club for people interested in all Kansas mushrooms, not just morels -- costs $8 per year to join. Some people join just for the joy of identifying different mushroom species, Roseberry said.
More information is available at www.sunflower.com/~pilott29.
Copyright 2018 The Lawrence Journal-World. All rights reserved. This material may not be published, broadcast, rewritten or redistributed. We strive to uphold our values for every story published.