Hong Kong — Hong Kong banned quarantined residents from leaving the city as the deadly SARS virus turned up Friday in two more Asian nations, in both cases among foreigners who had recently been to Hong Kong.
Indonesia and the Philippines reported their first cases of severe acute respiratory syndrome, bringing to 20 the number of nations that have reported SARS cases.
Worldwide, SARS has claimed at least 116 lives and sickened more than 2,700 people.
A Malaysian cruise ship, the Superstar Virgo, was also hit with SARS. One crew member is ill and another is showing symptoms, a Star Cruises spokeswoman said Friday. They have been admitted to hospitals in Singapore and Malaysia.
In Singapore, authorities searched for an illegal immigrant from China who escaped from the city's Communicable Diseases Center after showing symptoms of SARS. Two Singaporean women -- one arriving from China's Yunnan province and the other from Hong Kong -- were whisked away upon arrival at Singapore's Changi Airport to be quarantined as suspected SARS cases.
In most cases, SARS has been linked to travel through or in Asia, mainly Hong Kong and mainland China, where the new illness is thought to have first developed late last year.
Hong Kong reported two more deaths from SARS, bringing the toll there to 32. With 1,059 confirmed SARS cases, the city said it planned to take the temperature of travelers at airports and bar anyone showing SARS symptoms from boarding a plane or crossing land and sea borders.
Hong Kong also said it would not allow people who live with quarantined SARS patients to leave the territory and ordered those same people confined to their homes for 10 days starting Friday.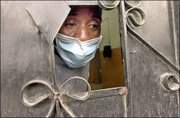 "We wish to tell our overseas friends loud and clear: Hong Kong will do our best to prevent the spread (of SARS)," Chief Executive Tung Chee-hwa said.
In a statement Friday, the State Department said medical evacuations could not be arranged from SARS-affected areas, because no commercial airlines or air ambulance services were willing to transport SARS patients.
The department has advised Americans not to travel to China unless necessary. It also has alerted travelers to a new Chinese government policy requiring hospitalization of anyone who shows SARS symptoms until the contagious phase passes.
Under the new Chinese policy, patients will not be allowed to see family members, personal physicians or U.S. consular officials.
Copyright 2017 The Associated Press. All rights reserved. This material may not be published, broadcast, rewritten or redistributed. We strive to uphold our values for every story published.