The company's name may be changing, but the folks at a call center and data-processing operation in southeast Lawrence aren't about to waver from their expanding history in town.
Pearson PLC, formerly known as NCS Pearson, is busy adding 45,000 square feet to its 150,000-square-foot operation in the East Hills Business Park.
The London-based media conglomerate is building on an already strong foundation of government work, one that only looks to get bigger in the months and years ahead.
"It's good to be in the government business right now," said David Hakensen, a Pearson spokesman. "That's a red-hot market right now, and we're continuing to pursue other opportunities with federal agencies."
The expansion in Lawrence will make room for about 100 new employees to run a call center for the U.S. Department of Health and Human Services' 1-800-MEDICARE Helpline.
The Lawrence center is part of a contract that covers the recruiting, training and management of employees to handle 10 million phone calls a year, from people seeking or already receiving government services. The deal's value is estimated at $118 million.
Pearson welcomes the opportunity to find employees in Lawrence to tackle the tasks, much as the company taps into educated workers at other call centers in Minneapolis, Minn., where the University of Minnesota is located; and Oakdale, Iowa, near the University of Iowa campus in Iowa City.
"For us, in Lawrence, it's fabulous," Hakensen said. "We're delighted with Lawrence. It's a great place for us to do business. It's got a strong worker base from which to draw. It's sort of typical for us to locate in college cities, where we have access to a well-educated talent pool and our employees can have a great quality of life.
"In Kansas, there's a good, strong work ethic, like we have in Minnesota and Iowa."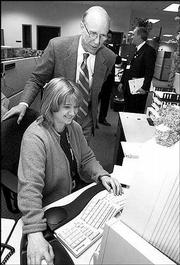 Swelling work force
Expect starting wages for the new jobs to be in the $8-to-$10-an-hour range, he said.
Pearson's Lawrence operations already had landed part of another mammoth job: a five-year, $140 million contract to handle more than 14 million customer calls each year for the Immigration and Naturalization Service. That deal came in February 2002 and added 100 jobs in Lawrence.
The contracts are part of Pearson's government solutions division, a business unit that generated more than $4 billion of Pearson's $6.9 billion in revenue last year.
And it shows no signs of letting up.
"It's a significant piece of our business, particularly our business unit in Lawrence," said Gabrielle Gibbons, marketing communications manager for Pearson Government Solutions, based in Arlington, Va. "Thankfully, my group specializes in the public sector, and there are lots of opportunities in the federal government at this point in time.
"Luckily, we're not specifically affected by the downturn in the economy, like the commercial sector."
Pearson Government Solutions, based in Arlington, Va., serves the federal government and postsecondary education markets, delivering solutions that support public sector entities in their delivery of information, benefits, and services to their constituents.Clients include the U.S. Departments of Agriculture, Defense, Education, Health and Human Services, Justice, Labor and Veterans Affairs, the U.S. Office of Personnel Management and the Transportation Security Administration.The business unit is part of Pearson Education, a global provider of applications, services and technologies for education, testing, assessment, government and data management. It purports to be the world's largest integrated education company, which in turn is part of Pearson, a London-based international media company.
Pearson currently has 1,100 employees working at East Hills. Of those, about 650 are full-time workers.
The company also runs a test-scoring center in the I-70 Business Center in North Lawrence. That operation -- which hires full-time, seasonal workers to grade standardized tests taken by K-12 students -- has 267 employees this spring, Hakensen said.
Government work
Such government contracts are nothing new for Pearson, both in Lawrence and nationwide.
Last year, the company took on a $103 million contract to screen and hire 60,000 airport-security personnel. The company signed the deal in March 2002 and met its Nov. 18 deadline for having them ready to go.
"We did some of the screening work in Lawrence," Hakensen said.
The company also is counting on President Bush's intention of "migrate" 850,000 government jobs into private hands during the next several years, Hakensen said. Such moves also could pay off for Lawrence.
"Those things either will be handled by services or companies like ours," he said. "Also, we're seeing an increase in the migration to e-government, to make services more electronic. That fits well with our Web and call center operations."
The company's presence at East Hills started in 1997, when NCS -- which would be bought by Pearson three years later -- opened a 90,000-square-foot building to handle privacy-sensitive information for government agencies and operate a call center for the U.S. Department of Education.
It later added a $4.6 million, 60,000-square-foot building to process retirement and pension-fund filings for the U.S. Department of Labor.
Such investments are welcome news for economic development officials in town.
"They're in a growing industry and they're a growing company," said Lynn Parman, vice president for economic development at the Lawrence Chamber of Commerce. "Lawrence is a great fit for them, and with the nature of the work they do -- the government contracts -- this is obviously a good time for them.
"We're just really pleased that they have room to expand in Lawrence."
Copyright 2018 The Lawrence Journal-World. All rights reserved. This material may not be published, broadcast, rewritten or redistributed. We strive to uphold our values for every story published.