New U.S. Department of Agriculture regulations governing the organic food industry should be a boost to Lawrence's Pines International.
Pines produces wheat and barley grass tablets and powders used as nutritional supplements.
The regulations, which took effect in October, marked the first time the organic food industry has had one set of rules to follow. It's also the first time the U.S. government has put its seal of approval on the industry's products.
Allen Levine, sales director for Pines, said backing from the U.S. government had company officials confident their international sales would soar.
"It will help our international sales immensely," Levine said. "In fact, we'll have our largest order ever from Germany as a direct result of these new regulations. It will double our sales to Germany immediately."
That's because foreign governments prefer dealing with the USDA, a fellow government agency, rather than the approximately 20 different privately owned organic certification companies that previously negotiated access into foreign markets for U.S. companies.
For example, Levine said the certification company Pines used never was able to negotiate a deal that would allow its tablets and powders to be labeled organic under German law.
About three months after the USDA became involved in the issue, Pines was allowed to begin marketing its products under an organic label in Germany.
Consumer confidence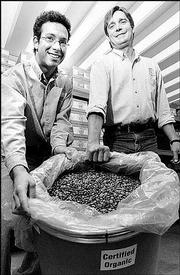 Domestic sales also may increase for the company because most people in the organic food industry believe the new regulations will make consumers more comfortable buying organic products.
"These regulations are a good thing because there should be no more misunderstanding," said Linda Cowden, produce manager at Lawrence's Community Mercantile. "It is now very clear what is organic and what isn't.
"It should increase the buyers' confidence that what they're paying for is what they are getting."
The new regulations basically create one set of rules for companies that want to label their products as organic. There are three sets of labels the government will allow companies to use.
If a company uses organic processes and ingredients, the company can put "100 percent organic" on its label. If a company uses at least 95 percent organic ingredients, it can label its product "organic." If a company uses 70 percent organic ingredients, it can label its product "made with organic ingredients."
Before the new regulations, there was no federal law that prohibited companies from using the term organic in their labeling, regardless of the ingredients or processes they used.
Now, companies that are caught misusing the term are subject to a $10,000 fine per violation.
Dan Nagengast, director of the Kansas Rural Center and a Lawrence organic farmer, said he thought the new regulations might make it easier for large grocery stores to begin carrying more organic products.
"The USDA seal seems to be an anointment of sorts," Nagengast said. "It is as if they're saying to the grocers that this is something else you can consider."
Nagengast said he thought it was the latest step in moving organic products into the mainstream of the American food supply.
Planning for growth
Levine said it was too early to estimate how the regulations would affect Pines' total sales. But he said that if the company met its projections and doubled its sales to Germany, it likely would increase the company's revenues by 5 percent.
Company officials expect sales in other countries to increase, too.
"Japan should come along as well, as soon as their economic problems get cleared up," said Jeff Richards, operations manager for the company.
Levine estimated increased sales growth in Japan could add another 5 percent in revenues for the 26-year-old company, which creates $5 million to $10 million in sales per year.
The sales increases could produce some dividends for Lawrence. The plant, which is located north of Lawrence at Midland Junction, employs between 20 and 30 people depending on the season. Richards said he expected the company would have to expand its work force and plant size if the company met its projections.
"We're pretty much at our capacity with the plant," Richards said. "We could handle another 5 to 10 percent, but we'd be pushing it."
Richards said it was too early to predict how many new employees the company might add to handle its growth.
Small concerns
Not everyone shares the excitement Pines officials have for the new regulations. Pines, which generally is regarded as the largest supplier of wheat grass in the United States, is considered a fairly large player in the organic industry.
But companies that are much smaller players, like individual growers who raise corn and tomatoes to sell to places like the Community Mercantile, are taking a more wait-and-see approach.
"There's been rumors that a lot of small farmers won't get certified because they're worried about the extra bureaucratic paperwork and because of the costs that come with it," Nagengast said. "We'll have to wait and see if that's the case."
Paul Johnson, a vegetable grower in Perry, said he was fearful small growers might get left behind by the new program. That's because private certification companies still will be in charge of certifying individual farms. The difference is that the certification companies are now certified by the USDA.
Johnson said that because there were only a handful of the certification companies that had received the USDA certification, they tended to focus on providing services to larger companies.
"I think the program will work better for the larger farms that produce crops like organic soybeans or corn, but how well it will work for smaller vegetable market gardeners is still to be seen," Johnson said.
Levine admitted the process could be daunting for smaller operators. He called certification "a huge paperwork process" and said it might add 10 percent to 20 percent to the cost of his products.
Nagengast said it was not uncommon for small growers to pay upwards of $500 for an annual inspection by a certification company and then pay a royalty of up to 1 percent of their annual revenues.
Producers who sell less than $5,000 worth of produce per year may be exempt from some of the requirements of the new regulations, Nagengast said. He said that should help prevent the law from negatively affecting some of the small farms that sell their goods at area farmers markets.
But Mark Lumpe, a Lawrence farmer who sells at farmers markets and to cooperatives like the Mercantile, said he was concerned that his small farm wouldn't be able to keep its certification if prices went up as a result of the new regulations.
He said he was fearful the new regulations might promote a "bigger is better" attitude.
"It's going to be a real shame if big business comes in and jumps on the bandwagon and takes this over, because it's been the small farmer that's really been promoting sustainable agriculture all these years," Lumpe said.
Copyright 2018 The Lawrence Journal-World. All rights reserved. This material may not be published, broadcast, rewritten or redistributed. We strive to uphold our values for every story published.