A slow economy in 2002 didn't put an end to the rapid expansion of new banks and banking locations in Lawrence and Douglas County.
The number of new banks and bank branches grew by 10.4 percent during 2002. That made Douglas County the fastest-growing bank location in the state, with a growth rate well above the statewide rate of 1.6 percent.
Area banking officials weren't expecting a slowdown in 2003 either. In February, Salina-based Sunflower Bank announced plans to build its first Lawrence branch near 15th Street and Wakarusa Drive. Intrust Bank in January announced plans to build its third Lawrence location, also along Wakarusa Drive. Late last year, Douglas County Bank broke ground on the northeast corner of Sixth Street and Folks Road for its eighth Lawrence branch.
The reason for the growth is simple, several bankers said. Lawrence -- which has built at least 300 new homes a year for 13 consecutive years -- is a loan hotbed compared with most other parts of the state.
"It is a sign of a strong growing economy," said Ted Haggart, president of Douglas County Bank. "We have had a lot of banks branch out here largely because they are seeking loan opportunities. Often times they are based in a community where there are fewer opportunities to make loans."
In case you lost count, Douglas County had 53 banks and bank branches in 2002, up from 48 in 2001, according to numbers from the Federal Deposit Insurance Corp. Since 1994, the number of bank offices in the county has grown by 103 percent, compared with 21.5 percent statewide.
Some bankers said those numbers were starting to show signs the banking industry was in need of adjustment, particularly since FDIC numbers showed the growth in deposits had not kept up with the growth of banks in the county.
In 2002, deposit growth in the county grew only 4.1 percent, which was the slowest growth rate of all five urban counties in the state. The rate also was slower than the statewide average of 5.8 percent.
"You can't grow deposits at 4 percent a year and branches at 17 percent a year for very long," said Todd Sutherland, president of Lawrence's University National Bank. "It shows that we're all going after the same business, and that's not what you want for the long term."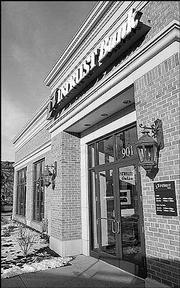 Sutherland said he thought the growth in the number of new banks in the city eventually would slow and that some banks might even begin to consolidate or close some branches in time.
"If you look at any rational factor about where to locate a branch, it would tell you Lawrence isn't the place to do it right now," Sutherland said. "But obviously lots of people disagree with me."
Ed Samp's CornerBank is a good example of a relatively new bank that hadn't been deterred by the increasing number of banks locating in Lawrence. Based in Winfield, CornerBank opened its new Lawrence headquarters building on West Sixth Street in late 2002.
"I know it may not be the most popular opinion among bankers, but I still think there is room for more banks in Lawrence," Samp said. "Yes, it is very competitive here, but all that does is just make us work harder. That should be fine with everyone."
It should be particularly pleasing to consumers.
Samp said all the competition meant banks had to get more and more creative and convenience-oriented to attract enough customers to be profitable.
Free checking is offered at several Lawrence banks, weekend hours are available with others, and some banks have even decided to stay open on some federal holidays.
At CornerBank's new facility, Samp has installed computers in the lobby for customers to do high-speed surfing on the Internet, plasma screen televisions for the them to follow the stock market, and special teller windows with digital displays to allow them to see their account information.
Some bankers also suspected the rates they offered on services such as savings accounts and business loans were better than in less competitive markets in the state.
Here's a list of each bank and savings and loan that operates in Douglas County, ranked by total deposits. All numbers are from the FDIC's 2002 Bank Report, the latest full report available.
| | |
| --- | --- |
| 1. Capitol Federal Savings | $391.3 million |
| 2. US Bank | $237.6 million |
| 3. Douglas County Bank | $141.3 million |
| 4. Commerce Bank | $102.6 million |
| 5. University National Bank | $74.6 million |
| 6. Baldwin State Bank | $46.0 million |
| 7. Kaw Valley State Bank | $33.4 million |
| 8. Kansas State Bank | $31.7 million |
| 9. Intrust Bank | $30.6 million |
| 10. Mid-America Bank | $26.9 million |
| 11. Emprise Bank | $24.5 million |
| 12. Lawrence Bank | $23.9 million |
| 13. Central National Bank | $20.5 million |
| 14. Bank of America | $19.7 million |
| 15. Peoples Bank | $19.0 million |
| 16. First State Bank & Trust | $14.2 million |
| 17. First Saving Bank | $11.3 million |
| 18. Mutual Savings Assn. | $10.2 million |
| 19. UMB Bank | $6.6 million |
| 20. Commercial Federal Bank | $5.0 million |
| 21. CornerBank | $1.7 million |
| 22. Capital City Bank | $1.2 million |
Copyright 2018 The Lawrence Journal-World. All rights reserved. This material may not be published, broadcast, rewritten or redistributed. We strive to uphold our values for every story published.